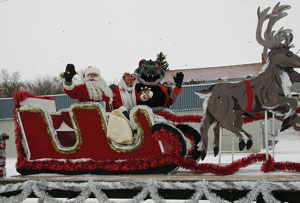 Santa Claus will still be coming to town, but it won't be at his annual parade in Drumheller.

    The annual parade that kicks off the Christmas season in downtown Drumheller was slated for Saturday, December 4. This year's event, typically hosted by the Drumheller and District Chamber of Commerce and Downtown Drumheller will not be proceeding.
    According to Heather Bitz manager of the Chamber of Commerce, changes to insurance policies led to the event's cancellation.
    She explains when the Chamber's insurance was up for renewal in October, they listed all of the events that the organization hosted throughout the year including the Santa Claus Parade. The insurance company put up a red flag about the event to discuss liability insurance for parades.
    "They are asking us to meet some requirements in regards to liability insurance from us, and because we have not been able to get all the details in time for the parade is why we cancelled it," said Bitz.
    This new issue will also affect the Canada Day Parade, however they expect to have the new requirements outlined before then. She also adds the Santa Claus parade at this point is only cancelled for this year, and they hope it will return next Christmas.
    Although the parade is not expected to proceed, they are still planning a number of Santa Claus–themed festivities on Saturday, December 4 in downtown Drumheller.
One tradition of the Santa Claus Parade that will remain is a Saturday afternoon matinee at the Napier Theatre to get into the Christmas Spirit and collect donations for The Salvation Army. At 2 p.m. the Napier will be screening Polar Express and admission is a donation to The Salvation Army Food Bank.
    Downtown Drumheller will be alive with the Christmas spirit including carollers and the Drumheller Lions Club will have hot dogs and hot chocolate.
    It is also rumoured that Santa will make an appearance at Riverside Value Drug Mart.