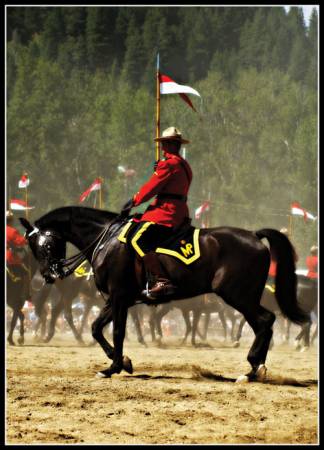 Don't try returning your tickets for Drumheller's first ever hosting of the RCMP Musical Ride: the event is a go despite misconception over recently cancelled shows elsewhere in Alberta.
    The traditional RCMP display of equestrian showmanship will be held at the Stampede Grounds on Wednesday, August 11.
    This year's tour came to a halt after one of the horses contracted a contagious bacterial infection, but returned July 23 with a show in Edmonton.
    Drumheller's event will go ahead as planned.
    "It is a phenomenal opportunity for Drumheller to host this," says Staff Sergeant Arthur Hopkins of the "ballet of horses".
    The Drumheller detachment will play a minor role in the ride, but will be in attendance and on hand if needed.
    Proceeds from the August 11 event are going to Big Country Victim Services, which support victims of tragedy from Oyen, Hanna, and Drumheller, and the Drumheller Agricultural Society, who is providing the Stampede Grounds.
    The event will feature two performances, one at 2 p.m. and one at 7 p.m.
    The Stampede Ground barn, turned stable for the event, will be open the night before (Tuesday) for interested visitors to meet the horses first hand.
    Today, in keeping with tradition, the Musical Ride is performed by a full troop of thirty-two riders and horses, plus the member in charge.
    The Musical Ride consists of the execution of a variety of intricate figures and cavalry drill choreographed to music.
    Demanding utmost control, timing and coordination, these movements are formed by individual horses and riders, in twos, fours and eights at the trot and at the canter.
    Months of training, practice and many kilometres around the riding school make horse and rider one.
    The horses must not only appear in the Musical Ride, but on Parliament Hill, in parades, special events and have the ability to travel and adapt to different environments, not to mention hours of petting and photo-taking the horses must patiently endure.
    "This is a great opportunity for the community to benefit from," says Hopkins.
    The native dancer who was well received at the 2010 Olympic celebrations in Drumheller will be performing at the Musical Ride.
    The Musical Ride was developed from a desire by early members of the North-West Mounted Police to display their riding ability and entertain both themselves and the local community.
    Considering the original Mounted Police members had a British military background, it was inevitable that the series of figures they performed were traditional cavalry drill movements.
    Although legend has it the first Musical Ride was performed as early as 1876, the first officially recorded Musical Ride was performed in Regina under Inspector William George Matthews in 1887.
    The Musical Ride, consisting of twenty men, was put on public display for the first time in 1901. Over the years the popularity of the Ride has grown and it has become a familiar sight throughout most of the world.