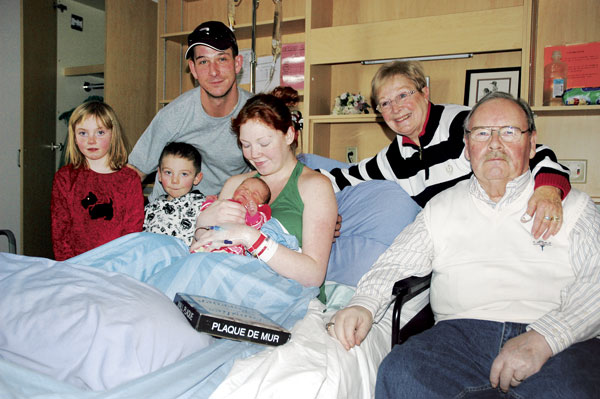 The stork arrived in the valley early this year, bringing in 2009's first baby at the Drumheller Health Centre on New Years Day, marking the beginning of a new life and a new year.
Exhausted, Charlotte Verkerk, sits with her newborn daughter, Vylit Irene Verkerk, in a room at the health centre, surrounded by members of her family including great grandparents Ted and Lilo Rolf. Vylit's grandparents are Remie and Irene DeFoor of Drumhellr. Baby Vylit, born a healthy 8 lbs., .02 oz. reaches out to feel her new world as father Bryan stands next to his new daughter and her loving mother.
"It was a very stressful birth, we are all exhausted," Bryan said of the over 20 hour labour. "She was in there a lot longer than she should have been."
The couple currently lives in Camrose, Alberta, but "still calls Drumheller home," where most of their family resides.
"Dr. Jeff Chung was just wonderful," said Charlotte, who had to undergo an emergency Caesarean section. "The hospital here is much better than the one in Camrose.
Bryan and Charlotte Verkerk, 27 and 29, now have three children with the arrival of Vylit.