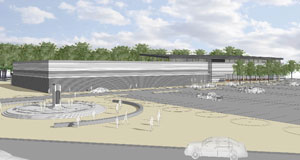 The Badlands Community Facility has received a $10,000 boost from a program run through Farm Credit Canada (FCC).
    Drumheller is one of 12 Alberta groups to receive a grant through the FCC's AgriSpirit Program. This program annually awards rural community groups between $5,000 and $25,000 for community improvement projects. 

  In Alberta, they have distributed $756,500 in the last seven years, and $131,000 this year alone. In the program's history is has granted $4.5 million to projects across Canada.
    "We know that the spirit of volunteerism is strong in rural communities across the country," says Clem Samson, FCC vice-president, Western Operations. "The FCC AgriSpirit Fund helps us support much-needed projects and celebrate the people responsible for making a positive difference in the lives of those around them."
    The fund supports projects in communities where the population is less than 100,000, and it can go towards projects that "enhance the quality of life for people who live in rural communities." These are capital project and can include anything from health care projects, playground and community facilities, food banks and libraries.
    To apply, a group must be either a registered charity, a municipal body or a non-profit organization that will collaborate with a municipal body that agrees to receive the money contributed and issue a receipt.
    In this round of grants, FCC received 919 applications from across Canada, an indicator that rural Canadians are involved in their community, and wish to see them prosper.
    "We know that there are hundreds of worthy community improvement projects happening across the country," says Samson. "We encourage groups who don't receive funding to re-apply next year as they move forward with their projects."
    Applications for 2011 FCC AgriSpirit Fund will open May 2, 2011. See www.agrispirit.ca for more information.