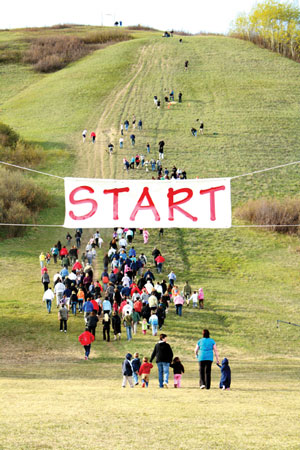 Locals looking to rally support behind bringing CBC's new weight loss program Village on a Diet have taken to social networking site Facebook to help draw the attention of the series producers.


    Town Director of Community Services Paul Salvatore started the Facebook group, "Make Drumheller - the Home of Season 2 of Village on a Diet!", on Monday, and by late that evening, the group attracted over 200 members.
    "I think the exciting part of this program is not 'me vs. you'. It's positive because it has that community focus," says Erica Laycock, Wellness Coordinator at Big Country Primary Care Network. "The focus isn't necessarily on losing weight, it's about living a healthy lifestyle."
    Chefs, personal trainers, psychologists, and doctors are brought in through the program to bring in new ideas and tactics to members of a town that would otherwise be discouraged.
    "I think some people get discouraged when trying to lose weight alone," says Laycock. "This program provides expertise which would otherwise cost you thousands of dollars."
    The show plans film in a three month period starting next April, and if Drumheller is accepted, the opening of the new Badlands Community Facility would happen shortly afterwards.
    "I think its always exciting to have a new program give you new ideas on how to be active," says Laycock. "The response from Taylor, B.C. (where the show's first season was based) had them say they felt inspired after the show was done, and having that amazing support from the community."
    Those interested in participating in the program and voicing support can do so on the Facebook group, or by emailing show producer Laurie Case at laurie@forcefour.ca
    The first episode of Village on a Diet airs January 3 on CBC, and features the town of Taylor, B.C..