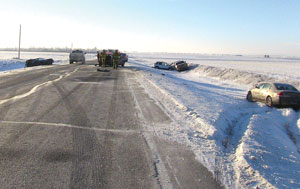 Drumheller and area emergency services had their hands tied up Monday morning following a motor vehicle accident that had a chain reaction that eventually involving 10 cars.


    On Monday morning, December 13, a two-vehicle collision occurred on Highway 9/56, approximately three kilometres miles past the top of the North Hill leading into Drumheller.  This accident occurred due to icy roads and extremely poor visibility.  Two police vehicles attended to the scene.
    While the initial accident was being investigated, the two police motor vehicles were stopped on approaches or shoulders of the highway with their emergency equipment flashing. Oncoming drivers observed the police vehicles, and attempted to slow down.  They were unable to stop due to icy roads or were struck in the rear by following vehicles. 
    Additional collisions began occurring, spreading several of these collisions throughout a 1/4 mile area.  The vehicles involved in these additional collisions were scattered on and off the road creating an extreme risk to occupants of the vehicles.  In some cases, drivers elected to drive their vehicles into the ditch to avoid being involved in ongoing collisions. 
    A total of 10 additional vehicles we involved in these secondary collisions.     
    Additional resources including police officers, the Drumheller Fire Dept., Ambulance services, and Ledcor Highway Maintenance attended to the scene.      Emergency services collectively were able to contain the site, and remove the injured.  Newcastle Towing and Honest Engine towing services attended as soon as possible to remove the damaged vehicles.  Ledcor administered salt to the highway and provided traffic control while the vehicles were being removed.  Valley bus attended to take the uninjured persons into Drumheller.
    All of these collisions occurred because many of these drivers driving in excess of "road and visibility conditions".  In all, five people were taken to the hospital for non-life threatening injuries.
    The investigation is ongoing to determine if charges will be laid.
    Staff Sergeant Art Hopkins wishes to remind motorists that it is the driver's responsibility to insure that they are able to stop their vehicle in a safe manner in the event of slowing or stopping of a preceding vehicle.  It is further the driver's responsibility to be able to bring their vehicle to a stop within the distance they can see. 
    "This was not the case today which resulted in many of these collisions.  We were extremely fortunate that no one was seriously injured," he said.