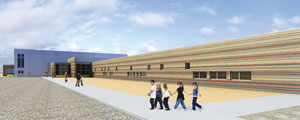 While Christ The Redeemer School Division has not selected a new contractor to complete the new St. Anthony's School on North Dinosaur Trail, they are moving forward with the process.

    InSide Drumheller reported in its November 26 edition that the school division had parted ways with Bayview Constructors and work on the site has stopped. The school division notified the parents of students at St. Anthony's of the action.
    Christ The Redeemer Superintendent Michael O'Brien said at this point no contractor has been appointed, and the school division is working with a bond holder and proceeding with the process.
    When the site was vacated, Leer Construction helped to seal the building. Despite rumours, they have not been contracted to complete the work.
    "They locked the building up for us and checked it for safety because they were in the area," he said.
    O'Brien said financially the school division is well protected. He explains that a performance bond is required to be posted by the contractor in construction projects of this sort.
    "When a contractor bids on a job they have to be able to post a certain bond to the value of the job. A bond is an insurance policy," said O'Brien. "The provincial government has a set of requirements for all government jobs. All of these things have to be in place before acceptance…when a problem arises, and problems can come in many forms, from bankruptcy, to breach of the contract or whatever the case might be, then the bond holder, the insurance policy, kicks in. What is happening now, is the bond holder is now an integral part of the process and is leading the process."
    The division is also working with Alberta Infrastructure and Alberta Education in making sure the project rolls ahead.
    O'Brien said the school division protected itself by making progress payments as the job advanced.
    "You only release the money as the appropriate progress happens," said O'Brien. "After they complete a certain portion, they get a certain amount of money."
    He adds the progress was closely monitored throughout the construction.