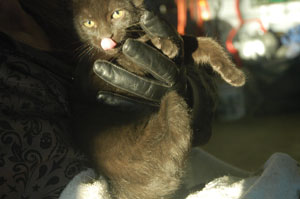 The -25C° temperatures aren't stopping some people from dropping off litters of young kittens in the alleys of Drumheller's downtown.

    Last week, a woman living in Lehigh saw something moving in the ditch on the way into Drumheller.
    Pulling over, she found a Siamese kitten, whose back had been shaved, burrowed into the snow bank to keep warm. Someone had tossed the cat out of their vehicle after shaving its back hair, leaving it to die in subzero temperatures.
    "What kind of monster does that?" said the humane society's Peggy Ginger who told inSide Drumheller about the incident.
    "Someone's displaying psychopathic behavior, and these people live next door."
    A few weeks ago a box was found behind the Waldorf Hotel containing a litter of kittens – one with its foot missing.
    Sadly, this isn't an isolated incident: cats are dropped off in Drumheller's downtown and at campgrounds and farms on a regular basis, Ginger says.
    "It's all due to people not having their animals spayed and neutered," says Ginger. "You know the story: they decide they don't want it, boot it out, it gets pregnant and has a litter of kittens."
    Tammy Bulechowsky has taken up a part-time job to help pay for the daily trips she makes into town to feed the dozens of feral cats roaming the downtown. Bylaw can't catch them – they've been wild long enough to know what a trap is, says Ginger.
    "I bet you I feed 30 stray cats a day," says Bulechowsky, who is also the foster home for 7 to 9  cats from the humane society on a rotating basis, including the black one found missing its back right leg.
    "I've found cats with their ears frozen right off," she says. "You wouldn't throw your baby out, how can you do it to these critter's babies? I just want people to quit doing this."
    Bulechowsky isn't alone, many shop owners and humane society volunteers in Drumheller's downtown have taken it upon themselves to provide for the stray cat population roaming at large.
    Cynthia Laurie of Cut Loose Salon has built an insulated shelter in the alley behind her store, with another one being built by Ginger east of that alley.
    Right now, there are 31 cats in temporary foster homes throughout Drumheller; this is down from 36 last week.
    "Everyone needs to get together to help with this problem," urges Bulechowsky.
    "In these cases, where people are trying to clean up messes of irresponsible people, it makes for a difficult situation," says Ginger.
    The humane society is having to turn people down, they are short of operating funds. When they can't help out the caller they get upset.
    Paperwork for gaining their registered charity status is being processed in Ottawa now. The Drumheller and District Humane Society had to have its corporation status and charity running for two years before even applying. The application was put in this fall.
    "It's very difficult to get that status, but once we get it, we'll be able to apply for grants.
    "When we get the grants, we can maybe get a building, maybe with paid staff," says Ginger. "That will take a huge amount of the pressure off."
    Those interested in adopting the kitten with a missing foot, or any of the other 30 animals currently in foster homes, can contact the humane society at 403-334-0894.