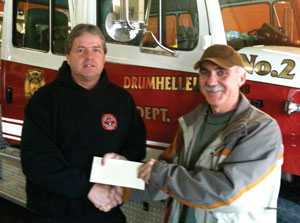 The organizing committee for the Drumheller FireFit event received a boost to kick off its fundraising effort for the event in Drumheller with a substantial donation from Encana.

On the weekend of June 11 and 12, 2011, the Drumheller Fire Department is hosting the Southern Alberta Regional competition in the Scotts FireFit Championship. Described as the toughest two minutes in sports, the FireFit Challenge pits firefighters against a course based on a firefighter's call of duty. Just to finish is an accomplishment.
 Encana has contributed $3,500 and has been named the first Gold Sponsor to step forward for the event.
    Organizer Duane Bolin is appreciative of the company for stepping forward, reflecting its commitment to supporting communities where it operates and where its employees live. Recently the committee also received a donation of $1,000 from Caltech to support the event, making Caltech a silver sponsor.
    The committee is looking for at least two more gold sponsors. Sponsorship packages include a number of opportunities for the company to have prominence at the event.
    The sponsorship reflects the interest in the community to bring the event to Drumheller.
    Organizers are planning for more than just a FireFit completion, but a community event to showcase Drumheller. Of course, the Challenge will be the main attraction, but there will also be a Corporate Challenge, as well as a TopCop Challenge.     
    The event will also be a fundraiser, and organizers are planning to donate any funds raised to the Badlands Community Facility.
    The Corporate Challenge allows non-firefighters to put together a team to challenge the course and learn the physical rigours firefighters face one the job. They will compete against other teams in a bid for bragging rights and to raise funds for a good cause.
    The TopCop competition is relatively new to the circuit. It allows peace officers to take on an obstacle course that puts them through the daily rigors of their job. It is on a modified FireFit course and includes challenges such as target shooting, forced entry and a tunnel crawl. The event is designed for anyone who works for a recognized law enforcement agency, and Bolin says there is good interest from officers at the Drumheller Institution.
    Bolin said organizers are encouraging other community groups to step forward and get involved. The FireFit Challenge is sure to draw a crowd, making it an opportunity for community groups to organize other events. Possibilities could be anything from car shows to tradeshows. It is a great way to showcase the valley, and community spirit.
    For more information on sponsorship, volunteering, or other ways to get involved, contact Bolin at 403-823-2559.