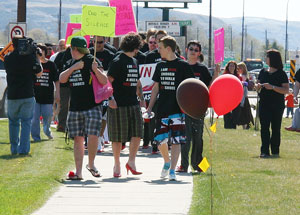 More than 50 men made the trek in high heels from Drumheller Co-op to Freson IGA, and along the way raised $17,000.
    The first Drumheller Walk a Mile in Her Shoes event on Wednesday, May 12, by all accounts was a success. A greater than expected turnout, combined with a large commitment from walkers and residents who donated to the cause, resulted in the event smashing its goals.
    "Walk a Mile is an international event that goes all over Canada, the US, and also Europe. We brought it here to Drumheller, never dreaming our community would respond so resoundingly," said Marian Ewing, president of the Big Country Anti-Violence Association. "This is a serious subject, violence and sexual assault, and touches many hearts. Our community rallies against it."
    Walkers were eager to hit the course, if only to take off the bright red four-inch heels at the finish line. Along with the shoes, some dressed up, some carried signs, some played the drums, and some marched in silence, wearing black shirts with red and white letters simply stating "I am man enough to walk a mile in her shoes."
    At the end of the road, they were greeted with a barbecue and even the opportunity for a pedicure and foot massage. They also shared the camaraderie of fellow hikers. Despite stubbed toes, swollen ankles and blisters here and there, spirits were high.
    Half of the funds raised by the event will remain with the BCAVA to support transportation, emergency funding and assistance for those in need. The other half will go to support Communities Against Abuse, an organization based in Stettler that serves East Central Alberta. Incorporated in 1988, the organization runs preventive programs for parents, families and students. It also has a treatment service dealing with victims of abuse, both children and adults who were victimized as children, family members of victims and perpetrators of abuse.
    Judy Beebe, program director for the organization, says they have treated victims from the Drumheller area and will use the funds to continue its services.
    She told the crowd gathered at the end of the walk she was encouraged to see so many men participate.
    "I've always said until we really get some men on board with us, it's just a bunch of women fighting the issue," she said. "This shows me that we really have some men on board and that it's not just a one gender issue, and that's really important to me."
    For Ewing, the walk sent a clear message.
    "Today we are helping a group of people who desperately need our compassion. On their behalf, I thank you sincerely. Your message is strong, 'stop sexual violence and gender violence,'" said Ewing.