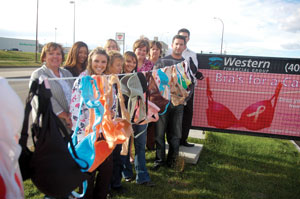 Old bras which have given women support for years can now be turned into support for breast cancer patients with the Bras for a Cause campaign kicking off in Drumheller last week.

    Western Financial Group (WFG) in Drumheller began the campaign which seeks to turn every old bra dropped-off into a $1 donation for the Breast Cancer Supportive Care Foundation.
    "A woman from my Hanna office is currently fighting breast cancer and watching her fight has inspired me and my team to run this campaign and raise some money," said Braden Bosch, managing partner at Western Financial Group.
    "The Bras for a Cause event has been taking place in Calgary for years. We are just piggy backing their idea as I thought it would be a fun way to raise money."
    WFG aims to raised $2,500 with hopes of collecting 2,500 bras in the Drumheller area, which may be dropped off at four locations: Western Financial Group, SJ Fashions, 99.5 DrumFM, and Greentree Mall before October 29.
    A barbecue will be held for the Bras for a Cause wrap-up on Friday, October 29 in the WFG parking lot from 11:00 a.m. to 2:00 p.m., with all proceeds being donated as well.
    The Breast Cancer Supportive Care Foundation strives to lead in the design and delivery of an innovative and supportive medical model of care for breast cancer patients.
    They offer services by a multidisciplinary team of health care professionals specialized in breast cancer care for women living with and recovering from breast cancer.