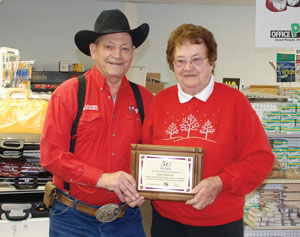 Long time auctioneer of the Craigmyle area, Johnny Shields was honoured by his peers, and was presented his gold pin for 50 years in the industry.
    On Saturday, January 30, at the Alberta Auctioneers Association Annual Meeting in Red Deer, Shields was presented with a plaque and the gold pin signifying 50 years as an auctioneer.
    Johnny, who just turned 80 on January 5, was born and raised in Oyen. In 1951, he married Merna and moved to a small farm at Chinook. Farming has never been an easy business, and looking for something to help pay the bills, he was inspired in the late 1950's by the famous Leroy Van Dyke Auctioneers Song. Knowing he could keep up singing the song, he knew he could excel in the industry. He sought out a school to learn the craft.
    In the spring of 1960, he sold two cows that came up dry, and was able to pay for the bus trip and tuition to the Western College of Auctioneers in Billings, Montana.
    While he spent two weeks taking the course, his wife Merna was left at home with her hands full, raising four children, feeding about 100 hogs and milking several cows.
     Johnny returned home and practiced in his tape recorders, perfecting the craft. He worked for the local auction mart at Cereal a few times, but then in the fall, the Shields conducted their first estate auction sale. That was 50 years ago.