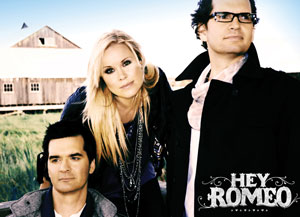 Hey Romeo, where ya playin?   
    The Drumheller Stampede and Ag Society has announced that Hey Romeo, the country music trio that includes Drumhellerite Rob Shapiro will be appearing at the Richard Cosgrave Badlands Dinosaur Derby. The Society has booked their Saturday night cabaret entertainment and is excited to have the band return to Drumheller. Last time they were in the valley to play was for Canada Day celebrations last year.
    About a year ago when they appeared, their remake of Fleetwood Mac's Second Hand News was on the radio. Today they have a new single in heavy rotation. Searchin for You has broke the Canadian Top 20, and the band has a new album ready to drop on June 1.
    That's What I Am will be on store shelves at leading music retailers such as Wal-Mart and HMV as well as iTunes.
    According to a release, Nashville songwriter Byron Hill, who has written scores of hit songs for everyone from Reba McEntire to George Straight, produced the album.
    That's What I Am is a reflection of Hey Romeo's commitment to their craft, whether it's defining a great melody line, polishing a glistening chorus, or putting a new spin on a universal theme.
    "You're supposed to get better with age, and I think that is exactly what we've done with That's What I Am says singer Rob Shapiro, who was also named Keyboard Player of the Year by the CCMA in 2009. "Better songs and better singing from all of us. Byron's intense approach to writing and his commitment to getting the best possible performances from everyone has paid off."
    The album was recorded in Nashville and Saskatoon, That's What I Am dishes out a perfect balance of vocalist Stacie Roper's emotive and charged, yet sweet voice, alongside those of the testosterone driven pipes of her pals and partners Rob and Darren Gusnowsky. Those voices are painted onto material that one minute can take the listener on a deep personal ride, and the next provide the ultimate escape.
    The Dinosaur Derby is coming up fast. It is on Father's Day weekend and features the top drivers of the WCPA Dodge Pro Tour on the aptly christened "Half Mile of Hell."
    Along with the races, the Stampede and Ag Society has a full slate of events planned including the Hey Romeo's performance on Saturday night. Downtown Drumheller and local businesses are also getting in on celebrating the chuckwagon races. Keep reading The Drumheller Mail and InSide Drumheller for more details.