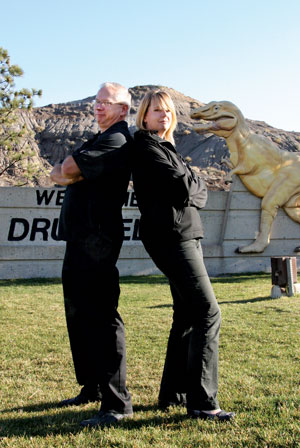 Even through a recession year, the tourism industry has remained vibrant, and two leaders in Drumheller are being recognized for their hard work.
    The only trouble is there is only one award.
    The Canadian Badlands Passion Play and the Royal Tyrrell Museum have both been nominated to receive the Alberta Pride Alto Award.


    The Alberta Pride Award was created to recognize a business or organization that captures the essence of the Alberta experience. It is one of nine awards to be presented at the 10th Annual Tourism Industry Conference, October 24-26 in Banff.
    "It is exceptional that two of the finalists for the Alberta Pride award are from Drumheller. It reflects well on our entire town and the great working relationship that we all have with each other," said Leanna Mohan, marketing coordinator for the Royal Tyrrell Museum. "I'm thrilled that the Alberta experience reflects more than the Rockies, this is great for the entire Canadian Badlands region."
    The Tyrrell has had an exciting year. It is celebrating 25 years, as well as its 10 millionth visitor. There have been some exceptional discoveries this year, including the remains of an Albertosaurus and possibly an Edmontosaurus below the streets of Edmonton. The Royal Canadian Mint has also issued a collector 50-cent coin to commemorate the anniversary and the Albertosaurus.
    "It has been such a great year," said Mohan.
    The Canadian Badlands Passion play has also had a stellar season. Last spring the Passion Play completed extensive renovations to its office and the set, and even added more seats to the auditorium. They were able to sell out those seats and had the largest single seating of the play ever. Community support remains strong for the performance as more than 200 front-of-house volunteers work to make the event a pleasure for visitors. Last year it was a finalist in the same category.
    General manager Vance Neudorf is excited by the nomination.
    "It is huge, when you have the whole province up for grabs, and then two places from here are nominated. It's really cool," said Neudorf.
    He adds the two institutions work well together and complement each other. In fact, after the 10 millionth visitor to the Royal Tyrrell Museum finished his tour, the family turned up at the Passion Play site. While there was no performance at the time, they were able to tour the site, and then receive a solo performance from local singer and Passion Play volunteer Doug Wade.
    These two organizations are not the only area resources that are being honoured. In July this year, the Alta Awards committee named LaVerne Erickson, founder of Rosebud Theatre, Rosebud School of the Arts and The Canadian Badlands Passion Play, as the 2010 Alto Ambassador. Canadian Badlands Inc. has been nominated in the Friends of Tourism category.
    Also nominated in the Alberta Pride Category is the You're Welcome Edmonton Awards.