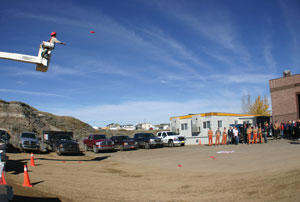 ATCO Electric employees in Drumheller took to the air on Wednesday, October 6 in Support of Stars Air Ambulance.
    Over the lunch hour, they held a barbecue and a Paper Airplane Show. Employees made paper airplanes and during the barbecue, they employed one of the reach trucks and launched the paper airplanes at a target. The closest to the target won some great prizes.

    The proceeds went to STARS, ATCO's EPIC (Employees Participating in Communities) feature charity.

    EPIC is an employee led fundraising initiative and gives those who work for ATCO the ability to contribute to charitable organizations of their choice in the communities they live and work. ATCO matches the funds raised by the employees.

    In 2009, ACTO and its employees pledged $2.97 million to benefit more than 500 charities.

    The air show allowed employees to enter a paper plane for a $10 donation, and five dollars for each entry thereafter. In all, they raised $260, and ATCO matched the amount.

    In the end the Beau 4, designed by Terry Beaupre, won the top prize of two gold tickets to the Calgary Flames versus the San Jose Sharks on October 24, as well as a Boston Pizza gift card. Rico Garez won second and a gift card for Canadian Tire.