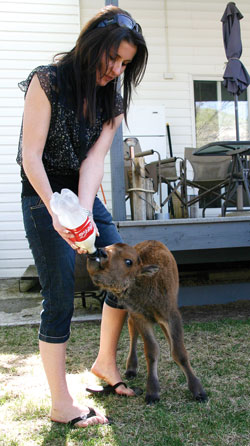 A little bison now roams… a lot closer to home, to get his milk from a bottle each day.
    Derek Dekeyser and Kim Clozza have two new guests roaming close to their farm yard. They are bottle-feeding two youngsters. One is Splash, a month-old calf that was orphaned, and an 11 day-old bison calf named Brady that was rejected from his mother. Four times a day, everyday, bottles are warmed and the babes drink to their heart's content.
    "He (Derek) brought him (Brady) home on Mother's Day," laughs Kim Clozza as she feeds the babe with a makeshift nipple on a plastic bottle.
    His buddy Splash has earned his name from his nursing style, bunting his surrogate to make sure he gets every last drop. Occasionally a few drops spill.
    The two get along well.
    Brady was found alone in the field after he was born. Dekeyser explains because bison are naturally always wandering, a mother, when it has twins, will reject the smaller of the two calves to allow them to keep moving. This appears to be what has happened. They brought the animal in from the field and they have been feeding him ever since.
    Already, in less than two weeks, Brady has adjusted to nursing from a bottle and has a skip in his step as he comes running at feeding time, and he appears to be comfortable with humans. The two yard-mates, after feeding, have a quirky habit of trying to continue nursing on each other, wherever they can latch onto.
     Brady will have to take care of the home front himself for a little while as Splash this week has found a new home.
    Dekeyser is confident they will find Brady a new owner in the near future. He is planning to offer the animal to a friend, the man that raised the famous Bailey D. Buffalo. Bailey has made many public appearances, and even met former Premier Ralph Klein, former Prime Minister Paul Martin and Prince Phillip.
    Until a new home is found, the feedings continue.