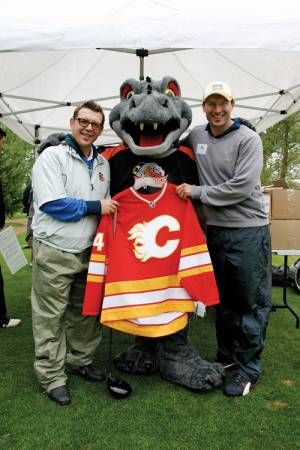 "I understand the 'Old Man' was here last year," laughs Theo Fleury, referring to Lanny McDonald's appearance last year at the Drumheller Dragons annual golf tournament.
    Fleury was this year's guest at the event on Thursday, June 3, a major fundraiser for the Drumheller Dragons. He was among a sold out crowd of 144 golfers on the course to have fun and support the team.
    A jovial Fleury was camped out at the fifth hole of Dinosaur Trail Golf Club, signing copies of his book Playing With Fire and visiting with golfers as they made their rounds. Never one to shy away, dozens of souvenirs were made at the tee box. While rain continued throughout the day, it could not dampen the enthusiasm of Fleury and golfers alike.
    Fleury explains he has known the Christianson family for years after meeting at a Wayne Gretzky Fantasy Camp, and has kept in touch. It is also a natural for him to support hockey in all its forms.
    "I know what it takes to run junior hockey teams these days, it is not cheap and obviously this tournament helps that," said Fleury.
    Fleury may be the most famous Calgary Flame in the franchise's history, playing in 11 seasons. He made a brief return and played exhibition games with the Calgary Flames in September of 2009 before he officially retired. He then released his book Playing With Fire, which has sold tremendously. He tells inSide Drumheller he has signed about 50,000 copies of the book since its release.
    League governor of the Drumheller Dragons Blair Christianson is appreciative of Fleury's support.
    "We have a relationship with him, and he always is one to lend a hand to these kind of events, and we appreciate it," said Christianson.