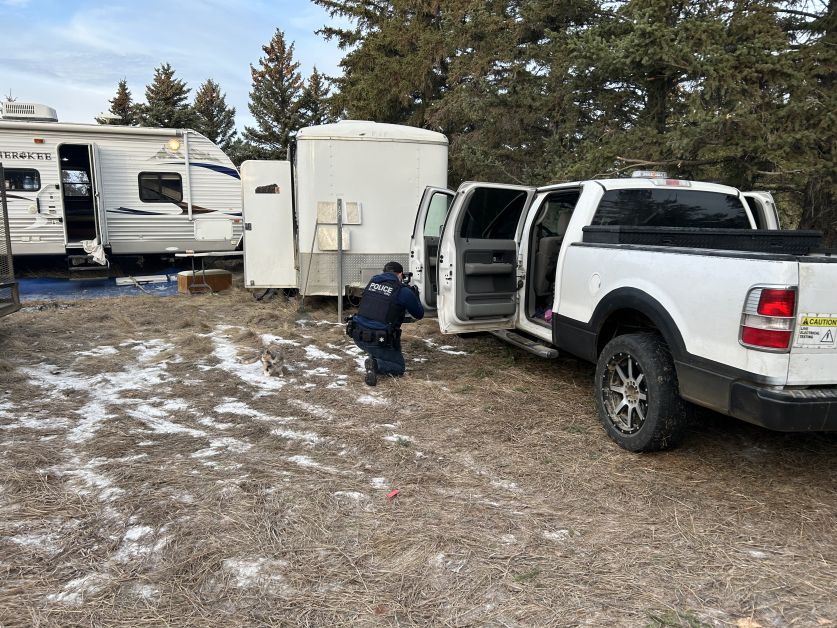 Two suspects have been arrested following an investigation into drug trafficking which began in September 2023.
Drumheller RCMP initiated an investigation into drug trafficking on September 27 this year following the discovery of a crashed drone near the Drumheller Institution. During the investigation, multiple partners and RCMP Support Units were engaged.
This included the Drumheller Institution, RCMP Southern Alberta Crime Reduction Unit (SACRU), Drumheller General Investigation Unit (GIS), Strathmore GIS, RCMP Forensic Identification Section (FIS), RCMP Special Investigations, RCMP Auto Theft Unit, and more.
On Wednesday, November 1, a police operation led by Drumheller GIS was initiated in the area of Township Road 252 and Range Road 185 in rural Wheatland County.
RCMP officers from Drumheller, Strathmore GIS, and the RCMP Emergency Response Team also assisted.
During the operation, a suspect vehicle was intercepted in the area and two suspects were arrested. A search warrant was also executed at a rural property.
As a result of the two-month long investigation and search warrant a number of items were seized: a pick up truck, quad, motorcycle, enclosed trailer, holiday trailer, flat deck trailer, suspected stolen items such as tools and equipment, 295 grams of suspected methamphetamine, 233 tablets of suspected fentanyl, contraband cigarettes, drone parts and accessories consistent with drug trafficking, two air guns/pellet guns, brass knuckles, printers and material consistent with VIN tampering and license plate forgery.
The operation also included the execution of a search warrant in a jail cell at the Drumheller Institution where suspected Controlled Substances and evidence of drug trafficking was located.
As a result of this operation, Drumheller RCMP laid a total of 30 charges.
John McConnell, 41, and Hailey Morrison, 30, both residents of Wheatland County have been charged with:
Possession of Methamphetamine for the Purpose of Trafficking
Trafficking of Methamphetamine
Possession of Proceeds of Crime
Possession of Stolen Property for the Purpose of Trafficking
Possess Stolen Property
Fraudulent Concealment
Tamper with Vehicle Identification Number
Furthermore, McConnell is charged with:
Trafficking of Methamphetamine
Possession of Methamphetamine
Fail to comply with an Undertaking Condition
Fail to comply with a Release Order
Operate Motor Vehicle while Prohibited
Possess Weapon for a Dangerous Purpose
Operate a Motor Vehicle Without Subsisting Registration
Operate Uninsured Motor Vehicle
Furthermore, Morrison is charged with Possession of Ammunition while Prohibited.
Both McConnell and Morrison were taken before a Justice for a bail hearing.
McConnell was remanded into custody and his matters are scheduled to be heard in the Strathmore Court of Justice on Tuesday, November 7.
Morrison was released from custody on a $2,500 Promise to Pay Release Order with multiple conditions. She is scheduled to appear in the Drumheller Court of Justice on Friday, November 24.
Drumheller RCMP and partners continue to investigate this matter and additional charges are pending.
If you have any information regarding these matters, please contact Drumheller RCMP at 403.823.7590 or contact your local Police Service. If you wish to remain anonymous, you can contact Crime Stoppers at 1-800-222-8477 (TIPS), online at www.P3Tips.com or by using the "P3 Tips" app available through the Apple App or Google Play Store.