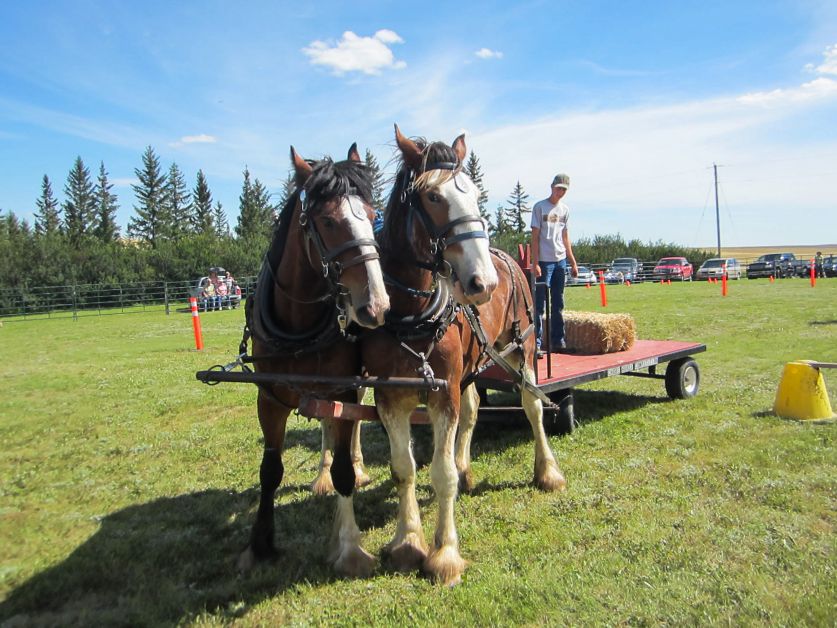 The Verdant Valley Agricultural Society is bringing back a unique event for horse lovers. Some of the most robust and well-trained heavy horse teams will be at the hall on Saturday, July 29, for its draft horse competition.
Chair of the event committee Elson McDougald explains this is the second time they have hosted the event in as many years.
"Last year we had nine big draft horse teams show up. We ran them in the afternoon and Tom Christensen from Standard won," said McDougald.
He says there are a number of great draft horse teams, and they aren't all that far from home.
"There are teams from Airdrie, Chestermere Lake, Standard, and two or three teams from Drumheller," he said.
The show starts at noon with opening ceremonies and then some youngsters will be doing some miniature horse driving.
The chore horse competition starts at 1 p.m.
These are teams of two horses mostly Belgian, Percherons, Thoroughbred crosses, and Clydesdales.
For those unfamiliar with the event, a chore horse competition emulates simply doing chores with a team, while taking them through various challenges.
"It's a skills competition and it is mainly handling them as you would handle a chore horse team on a farm," said McDougald.
These are everyday maneuvers such as opening and closing gates with the horses standing free, or hooking up to loads, backing up the team, pulling through pylons.
"We try to do it all in 15 minutes," he says. "It's not too wild and exciting but we like it and it seems to draw interest."
In fact, with nine competing last year, about 300 came through the gate as supporters and spectators, almost twice than what they expected.
The event is free of charge for spectators, there will be a concession on site, as well as live music and a beef on a bun dinner, for a small charge.
At the venue, there will also be antique displays in the school and antique tractors and trucks in the yard, there will also be various other activities such as quilting and demonstrations.
For more information or to get involved, contact Elson at 403-823-9820.