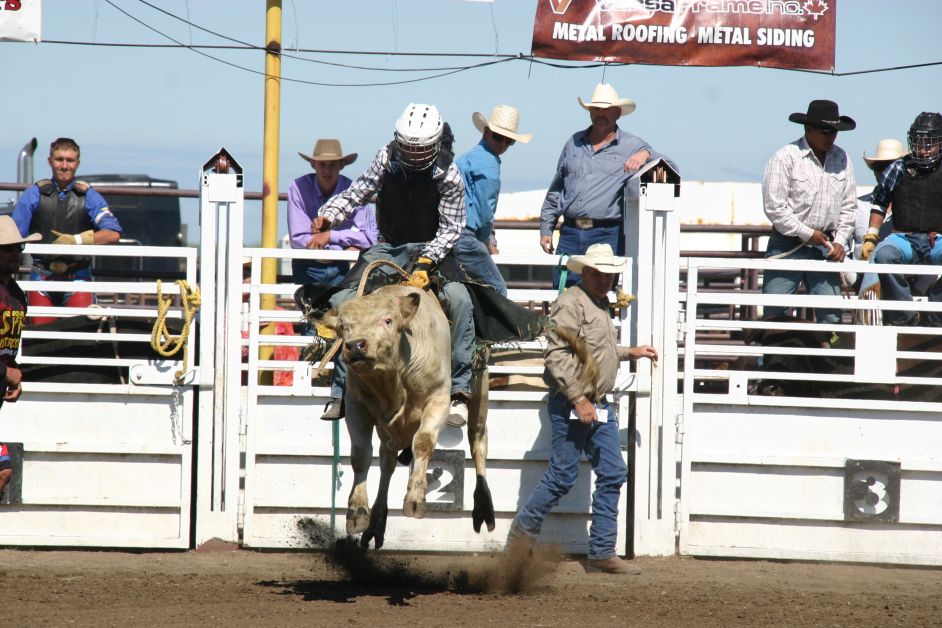 What started as a sports day for the community, has evolved into one of the premier rodeo events in Alberta.

The Lions Club Rockyford Rodeo is turning 60 this year. While many rodeos have fallen by the wayside, the event offers an extravaganza of rodeo events, family fun, and a good time for all.

According to "Rockyford: Where We Crossed the Creek and Settled," before 1957 the community would gather for a sports days with events such as tug of war, baseball, and horse races.

A few of the organizers that year decided to make it an even bigger event and the rodeo was born.

The initial events included calf roping, cow riding, wild cow milking and some races.

The day started with a chuckwagon breakfast, a parade, and a flag raising ceremony before the rodeo took off. Gilbert Burke was the first arena director.

Louie Geeraert details how he decided to build a chuckwagon to serve the annual breakfast. He, along with Joe Koester, Bert Davenport, and Stan Harry worked to make the breakfast a success with the community pitching in supplying the food and utensils. The wagon even caught fire but everyone was safe.

Their second year more joined in to help, and Fred Keeler and his orchestra provided music at the breakfast. In the early years they would hitch up the wagon and pull it in the parade, however, they soon found they would never finish serving in time to get in the parade queue.

The rodeo grew and by 1960, the track was improved to make way for pony wagon and chariot races, and a fair was added in 1962.
In 1965 they began to build the new facility and in 1967 it became a Foothills Cowboy Association (FCA) event, with a full slate of events including bareback, saddle bronc, bull riding, steer wrestling and calf roping, boys steer riding and wild cow milking. This was along with the gymkhana and chuck and chariot races.

The rodeo grew into a Saturday event, and by 1973, they added an evening show to accommodate all the entries. By 1976, it was a full weekend show.

Another mainstay to the rodeo was the addition of Stampede Wrestling, which attracted even more fans.

This year the spirit lives on with an FCA sanctioned events, a parade, breakfast, and beer gardens. This year slack begins at 11 a.m., Friday, followed by chuck and chariots at 6:30 p.m. and family dance at 9 p.m.

Saturday it all gets going again with breakfast starting at 7 a.m., with the parade at 10 a.m., and rodeo events beginning at 12:30 p.m. There is a beef barbecue dinner at 5 p.m. with the chariots and chucks and then the cowboy ball at 9 p.m.

Sunday opens with breakfast at 7:30 a.m., with the rodeo at noon, beef on a bun at 5 p.m., and then the chucks and chariots at 6:30 p.m.