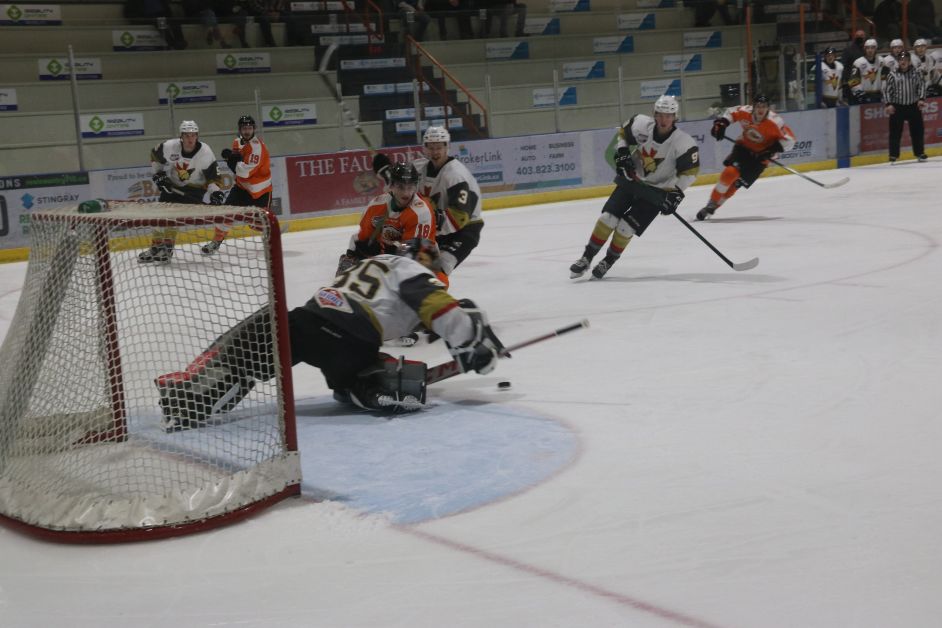 The Dragons are back on the ice and shaking off some of the holiday rust, battling through some close games.
The Dragons opened 2022 on the road on Tuesday, January 4, versus the Olds Grizzlys. Olds got the jump on the Dragons going up by two goals early, but by the end of the first period goals from Tanner Willick and Myles Hilman, they were even at 2. Willick scored his second of the game early in the second period to put the Dragons up, but the Grizzlys answered back Luke Fennig connected on the power play at the midway point to take the lead 4-3, to put the Dragons up, but the Grizzlys tied it up forcing overtime.
With overtime expired the game went to a shoot out and Vann Yuhas and Ty Daneault connected on their shots for the win.
On Friday, January 7, the Dragons were back on home ice hosting the Grande Prairie Storm.
The Dragons outshot the Storm 44-22, and Myles Hilman put the Dragons up 2-1 after the first period with two powerplay goals. Grande Prairie stormed back in the second with two goals taking the lead.
The Dragons tied it up early in the third period with a goal from Alexey Trischuk, but the Storm scored the winners, and added an empty netter for good measure, winning 5-3.
On Saturday, December 8, the Dragons hosted the Bonnyville Pontiacs. Ty Whitford opened the scoring for the Dragons just 35 seconds in, but the Pontiacs were up 2-1 by the end of the first period. Yuhas scored on the powerplay early in the second period, but the Pontiacs answered back. Fennig tied it up at 3 going into the third period.
In the third, Hilman connected 35 seconds in, but with 1:07 remaining the Pontiacs tied it up, forcing overtime. Just 59 seconds into overtime, the Pontiacs took the 5-4 win.
The Dragons are home this week, taking on the Whitecourt Wolverines on Wednesday, January 12, and then the Okotoks Oilers on Saturday, January 15.