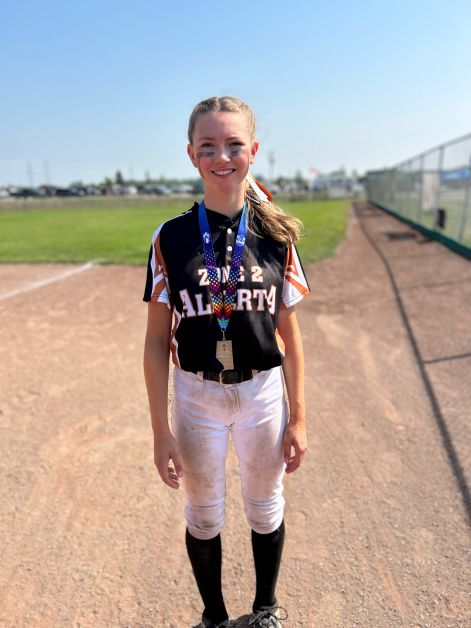 A Drumheller softball player is an Alberta Games Silver Medalist.
Sophie Olsen, 14, daughter of Bryan and Crystal Olsen, has been playing softball in Drumheller for the Pure Venom. This spring she tried out for the Alberta Summer Games and was selected to play.
The Alberta Summer Games were hosted by Okotoks and Black Diamond from July 20-23. There were 14 different sports represented at the games, and over 300 medals were presented.
Olsen played for the Zone 2 Big Country team. They played through five games, and she pitched in three.
They went all the way to the finals against a strong Zone 1 Sunny South team. Big Country won silver.
She said the Summer Games experience was exceptional.
"It was really nice, you got to meet lots of new friends from different ball teams," she said. "Just getting to stay in a place as a team for a few nights was really fun."
Some of these same players she may connect with again as she pursues her sport.
" I want to take ball far," she tells the Mail, noting she would like to play at the post-secondary level, possibly at an American college.
Come next season she is planning to try out for a ball team which may take her out of the valley to pursue her sport.