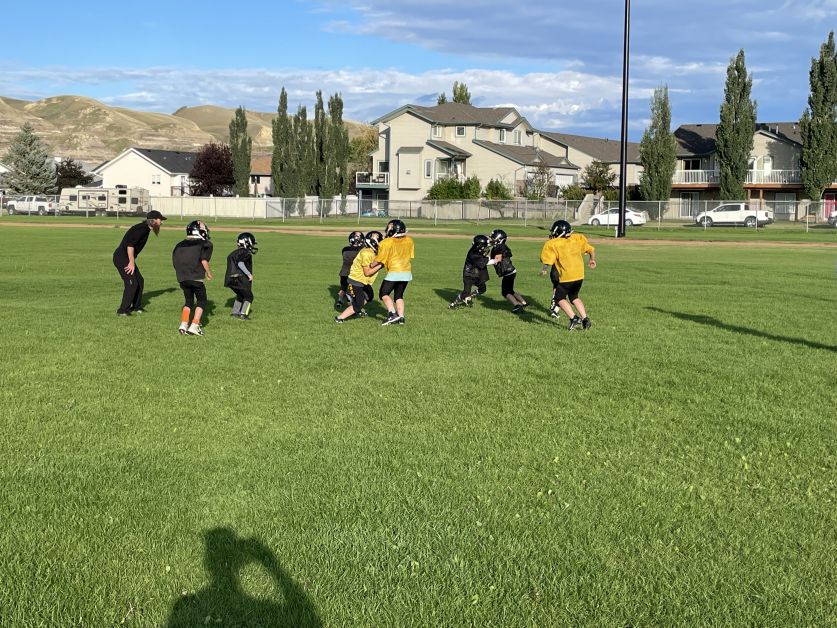 The football field at DVSS is already a busy place, as the Bantam Titans and the Peewee Terrapins are back on the gridiron.
This year they are joined by Atom players.
"This is the first year we have had Atom," said Brad Iverson who has taken on coaching all three levels.
He explains the Atom level does not have an organized league, so they will just be practicing and will arrange exhibition play with other communities that offer the same level.
"It's all about starting them on the game and rolling with it," said Iverson.
The Bantams have been practicing for a couple of weeks and on August 19 they will be in Calgary to play in the Calgary Jamboree. This is against some tough competition.
"This is the second time the Bantams have gone to the Calgary Jamboree. It is a good experience. There is quite the competition, but it gives us a good chance to see where we are at," said Iverson.
The Bantam's regular season starts with a rare Sunday game on September 10.
He said the team is looking strong. They had good numbers last spring and a few more additions. This is after a successful jamborees season. He says he has some strong players returning, as well as some coming up from Peewee.
Peewees start their season on September 2.
They, too, have a strong core of returning players, as well as some new bodies.
He said the program can only get stronger, especially with the addition of the Atom program, where players can get some experience before entering peewee.