The Drumheller Dragons are regaining some momentum, breaking a three game losing streak on Tuesday against the Olds Grizzlys.
Though the Dragons appeared to be in control of the game, the Grizzlys were with them goal for goal. The game had to be settled in overtime, where the Dragons came away with a 4-3 win.
The Dragons took control of the game early, in no small part to an interference penalty by Grizzly Ty Mappin a mere 46 seconds in. Mitchell Cook, taking advantage of the powerplay, rushed to the Grizzlys end, through their defence, and rocketed the puck past goalie Ethan Jemieff.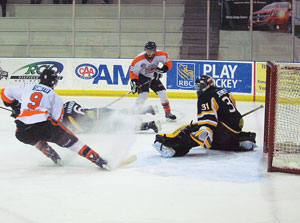 Dallas Smith (left) and Rory Davidson were denied on a big two-on-one opportunity. The Dragons kept up the pressure against the Olds Grizzlys on Tuesday night, but had trouble getting the puck past Grizzlys goalie Ethan Jemieff. The Dragons eventually settled the game with a 4-3 win in overtime.
Powerplays would end up being the key for the remainder of the night. Of the seven goals scored by both teams, five were during a powerplay.
The Dragons remained in the driver's seat for the rest of the game, but Jemieff proved to be a hard nut to crack. In total, the Dragons sent a flurry of 40 shots at him, but Jemieff was able to stop most and reign in any rebound opportunities.
A closing hand on puck penalty levied against Troy Gedny cost the Dragons the lead and the game was tied at 1-1 before the first period was over.
The second period remained locked at 1-1.
In the opening minute of the third, Dakotra Zaharichuk put the Dragons up 2-1, but the Grizzlys responded with a goal of their own after Gedny was sent to the penalty box for kneeing.
A tripping penalty by the Grizzlys a few minutes later gave the Dragons the edge they needed. Newcomer Tyler Haiste put the Dragons up 3-2.
From there, the Dragons were poised to win the game. They managed to fight through some penalties, including a harrowing three-man penalty killing situation.
However, the Grizzlys tied things up again at 17:15 in third. The puck was lobbed high into the air and landed in front of Dragons goalie Jonny Hogue. Hogue lost track of the puck and in the ensuing scramble, the Grizzlys snuck the puck past him.
The game was finally settled in overtime with a goal from Ethan James, who was awarded the Dragons star of the game.
The win puts the Dragons back in third place of the AJHL Southern Division and one point behind the Okotoks Oilers. However, things are tight at the moment in the Southern Division, with only five points separating second and seventh place.
The Dragons are back on home ice on Saturday against the Sherwood Park Crusaders at 7 p.m.