Drumheller Dragons fans may have recognized one of the team's newest players in recent weeks.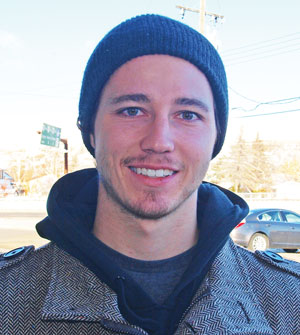 Trent Ouellette, a native to Three Hills and Drumheller, returned to the Dragons early in October to finish the final year of his junior hockey career. He had been playing for the WHL Regina Pats the past three seasons, where he amassed 19 goals and 31 assists in 194 games.
"I thought it would be a better opportunity here and I wanted to play my last junior season close to home," said Ouellette. "It's been great so far. Brian (Curran, head coach and general manager) has helped out with the transition and has been a great coach. I like being able to play at home in front of my family."
Ouellette has wasted no time making an impact with the Dragons. In nine games, he has eight goals and four assists. He has also been named team captain.
"It was definitely an honour to be given that role," said Ouellette.
Ouellette spent his Grade 11 and 12 years at Drumheller Composite High School after moving here from Three Hills. In that time, he started his junior hockey career and soon found himself in Regina.
"I played a few games with the Dragons when I was 16, then I got picked up by Medicine Hat and then traded to Regina. It was a surprising change, but you have to go where they tell you to go," said Ouellette.
Even though he's only been back in Drumheller a short time, he feels the change was well worth it.
"It's probably the most tight-knit group I've ever played with. Brian preaches we need to be tight on and off the ice to have success on the ice. All the guys have been great," said Ouellette. "I've already learned more from Brian in the past three weeks than I have in the past three years. He's one of the smartest coaches in the league,"
At 20-years-old, this will be Ouellette's final year in junior hockey. He's hoping to use his time here to plan the next steps of his career.
"Coming back here gives me an opportunity to talk to some universities. I've talked to a few, so next year I'm looking to play university hockey somewhere in Canada. It'll be nice to still be able to play and start on a career path. I've been looking at the sports side of things, like sports pyschology," said Ouellette. "But, I definitely wouldn't say no if any pro teams wanted me."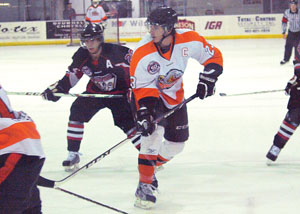 Trent Ouellette, who was raised in Three Hills and Drumheller, returned to the Valley to play for the Dragons early in October. Ouellette has already made his presence known, racking up eight goals and four assists in only nine games, and has been named team captain.