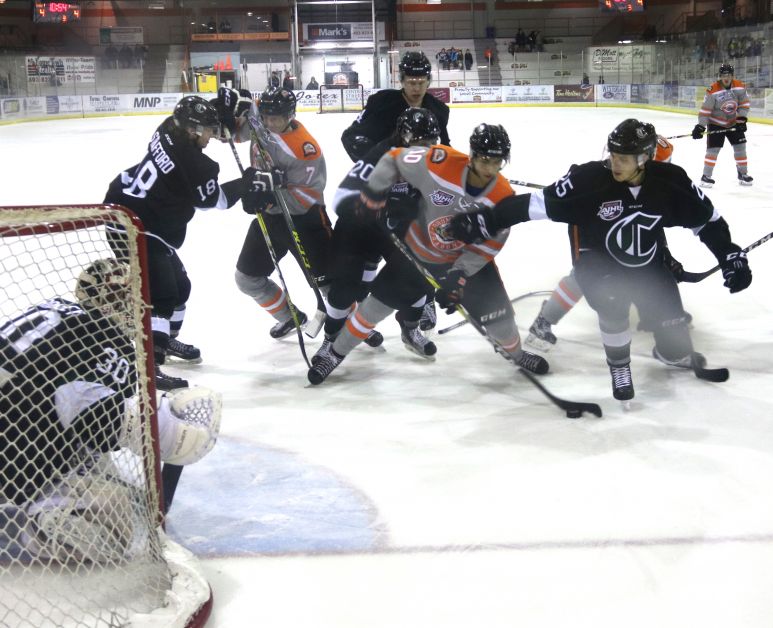 The Dragons had a strong weekend at home versus some tough competition, and came away with a win and a loss.
The Drumheller Dragons hosted the Sherwood Park Crusaders on Friday night, December 9, and then on Saturday faced the Bonnyville Pontiacs. They were coming off an impressive overtime win versus the Brooks Bandits earlier in the week.
Versus the Crusaders, the Dragons jumped out to the lead 9:32 in, when Tyler Kreklewich found the net. The Crusaders tied it up but Evan Tschumi retook the lead on the power play. The back and forth continued in the second period, as the Crusaders evened up again, but the Dragons ended the period up 3-2 thanks to Troy Dudley's goal.
The tables turned earlier in the third period as Sherwood Park scored twice in the first four minutes to go up 4-3. Brad Stonnell tied it just two minutes later, and then held until 1:19 left when Sherwood Park scored the winner, 5-4.
The Dragons regrouped to get back on the ice on Saturday to play the Pontiacs. Bonnyville is second in the standings in the AJHL Viterra North, and are playing great hockey. The Pontiacs outshot the Dragons 18-6 in the first period, but ended the period tied. Markus Boguslavsky scored for the Dragons just 1:51 into the game. The Dragons' power play was firing in the second period as Brett Campbell, and Kreklewich each scored to put Drumheller up 3-1.
The Dragons scoring ways continued as Chad Harrison and Tyson Scott each scored in the third to put the Dragons up 5-1 for the win. Dane Dow faced 40 shots and stopped 39 in the win.
The Dragons were in Calgary to take on the Calgary Mustangs on Tuesday, December 13, results not available at press time. Tonight (Wednesday, December 14), the Dragons are hosting the Brooks Bandits for the second time this season. It will be a special night as Cervus Equipment has lined up country singer Drew Gregory to perform at the game.