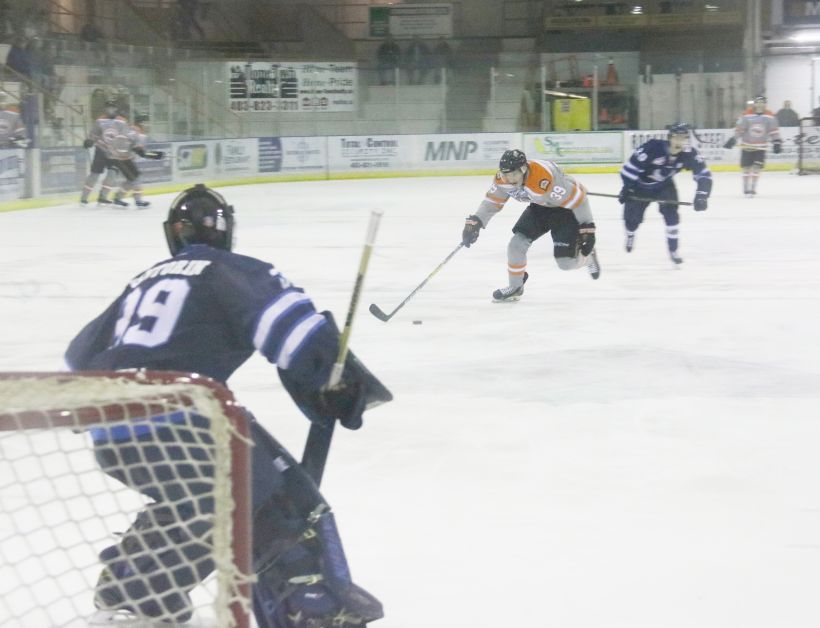 While 2016 started with a bang, it ended with a whimper for the Drumheller Dragons. Despite this, the team continues to exceed expectations going into the second half of the season.
The Dragons dropped their last four games leading up to the Christmas break, three of which were at home. Coach Brian Curran said with a young team, he expected a little bit of drop off.
"I knew this was coming, I said this at the very beginning of the year. When you have 14 or 15 first year players, in a midget schedule, they have already played a full season," he said. "I didn't know when it was going to come. I don't like the fact that it came at home. The last game that we played that I enjoyed watching was the game in Brooks (December 14). I thought our boys played really hard in that game and we definitely had a chance to win and I was proud of them. After that, I could see there was fatigue. I talked to all my players and a lot were tired."
He adds they were without three key veteran defensemen for some of those games.
"We need that veteran leadership back there, and you could tell the back end was getting exploited in the last three games," he said.
"At the end of the day, they hit a wall, I think this break couldn't have come at a better time and for me, I expect a lot of really good things when they come back."
It has been an exciting year for the Dragons. Starting the season with one of the youngest, if not the youngest squads in the league, have managed to put together 15 wins by the midway point and are almost playing .500 hockey. While going into the second half of the season, he still has to get a couple players back from suspensions, he believes the team will be back on track.
"After that, the team will see, and the people will see what they were watching most of the year, a hard working team, and they have developed ahead of schedule. Now we have to get them over that hump to the next level," he said.
He has seen growth with the squad and he has more expectations for the team.
"My goal is to be able to go into the playoffs and be a team that nobody wants to play," he said. "They have really bought into how when we are successful, they have to work as a group. I can see the growth of our defensemen where they are starting to play with confidence handling the puck," he said. "When they are successful, they are doing it together rather than as individuals."
Because he has such a young group he is developing his players for now and the future, the first step was selecting players.
"When you have that good character, they will only grow and grow. It is imperative as a coach to make sure every one of our kids understands. It is the simplest game I have ever coached this year. We are trying to keep it simple for them so they can grasp everything so that as time goes on, you have the basic foundations of our game play, and then we expand on it."
The Dragons are back on the ice this Friday, December 30 versus the Olds Grizzlys.