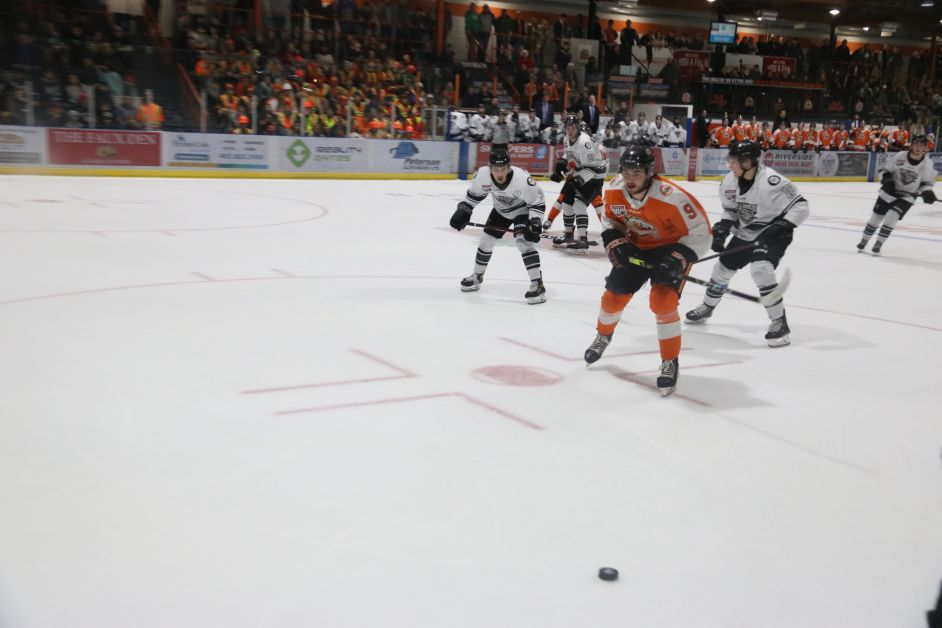 It was a season for the ages, but sadly the Dragons' playoff hopes were dashed on Tuesday night, April 4 in Blackfalds in Game Seven.
The Dragons finished the regular season in third place in the AJHL Viterra South with a 33-21-4-2 record. They dispatched Canmore in six games and went on to face the Bulldogs. They had the early upper hand going up 3-1, but momentum shifted as Blackfalds scrapped for a Game Seven.
On Tuesday Night, Blackfalds led 1-0 after one period. Connor Poffenroth to tie it up in the second, but the Bulldogs added two more. Blackfalds added one more in the third before Coy Poghin scored one for the Dragons unassisted, 17 seconds later. Blackfalds capped it off with 2:24 left in the game to win 5-2.
"Despite falling just short of the AJHL South Division Final, the Drumheller Dragons saw a community rally around them like no other. Between packed crowds at the Memorial Arena, a self-named student section called the "Rink Rats", and police escorts out of town for the team bus, it was a tremendous season full of memorable moments. A special thank you goes out to the community of Drumheller for their tremendous support all season long!" the Dragons noted on their website at the conclusion of the season.
"We would also like to congratulate all of the Dragons' graduating 20-year-old players on outstanding junior careers. They brought valuable leadership and experience to the team and played critical roles in the success of this organization all season long. These players include Sam Simard, Ty Whitford, Ben Christian, Garrett Fuller, Noah Danielson and Caleb Willms. We wish them all the best moving forward in their careers!
Outside of the Drumheller Memorial Arena, the Dragons had success in helping players reach their goals to further their careers and education.
Players from this year's squad heading on to post-secondary programs include Easton Adrian (Rensselaer Polytechnic Institute), Ty Daneault (Merrimack College), Vann Yuhas (Merrimack College), Coy Pighin (Colorado College), Kai Matthew (University of Denver), and Noah Danielson (University of Western Ontario).