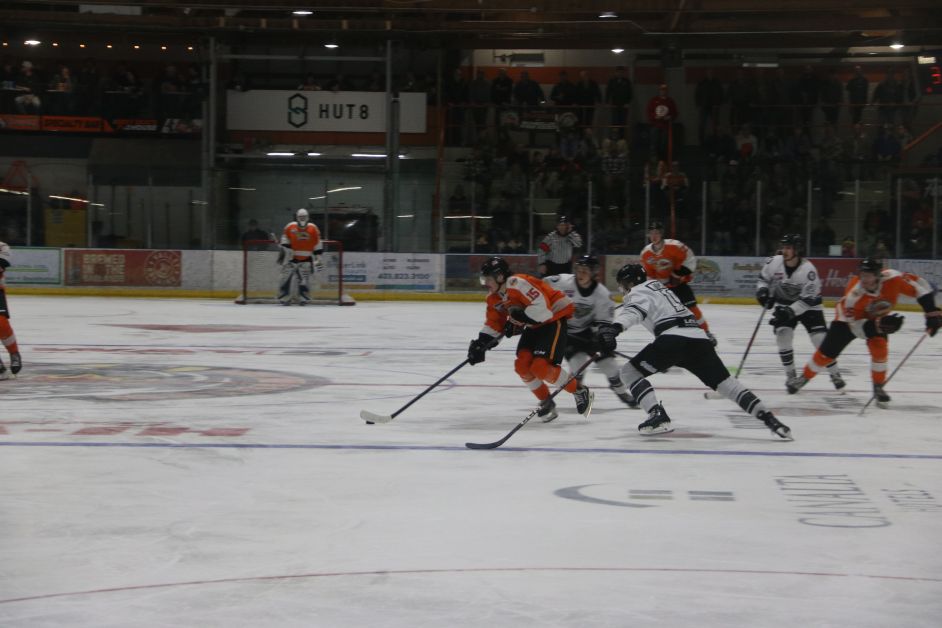 The fate of the Dragons' season was on the line last night, however, it was decided after press time.
What is known is it has been an exciting second round playoff series between the Drumheller Dragons and the Blackfalds Bulldogs.
The Dragons returned home from Blackfalds on Tuesday night, March 28 with a split for Game 3. Ty Daneault didn't waste any time and scored 1:11 into the game. Kai Matthew added one more and the Dragons led 2-0 after one. The Bulldogs tied it up less than seven minutes into the second period before Daneault scored his second of the game. Unfortunately, the Bulldogs tied it up to end the second.
The Dragons had some great chances in the third period. At the midway point, the Bulldogs were dealt a too many men on the ice penalty, and Dylan Glinski scored the powerplay winner. Ty Whitford added an empty netter to win 5-3.
On Wednesday, March 29, the Dragons Den was rocking again. Caleb Willms opened the scoring and Daneault followed it up to lead 2-0 after the first period. Vann Yuhas scored early in the second, but Blackfalds made their way onto the scoreboard. Ryan Henderson scored his second of the playoffs to put the Dragons up 4-1 after two periods.
The Bulldogs scored two in the third period to make it interesting. Yuhas put it out of reach with less than a minute left on the empty net.
The Dragons led the series three games to one and had a chance to win it on Friday, March 31. The Bulldogs set the pace, scoring just 31 seconds in. Ty Whitford added one to end the first period tied. In the second, Blackfalds went on a tear and scored five unanswered goals to take a 6-1 lead after two. Easton Adrian scored in the third but the Bulldogs added two more goals to take the 8-2 win and force a Game 6.
The teams were back in Drumheller Sunday evening, April 2. Blackfalds got the jump early and went up by two goals. Sam Simard scored with less than two minutes left to end the first period trailing 2-1. Yuhas tied it up in the second, but Blackfalds came back in the third with two goals. Ty Whitford added one, but that was as much as the Dragons could muster and lost 4-3.
Game 7 was Tuesday, April 4. Results were not available at press time. The winner of this game goes on to play the Brooks Bandits in the South final who topped Okotoks in six games.