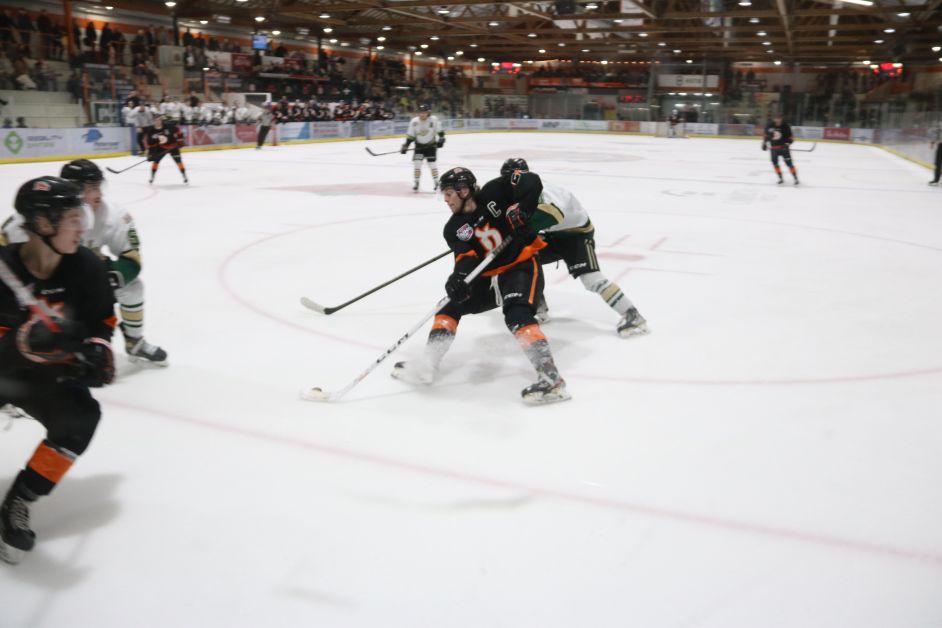 The Dragons are sitting in third place heading into the playoffs after a strong finish to the regular season.
The Dragons finished off the final week of the regular season with three straight wins to capture third place in the Viterra South, and are facing Canmore in the first round of the playoffs.
The Dragons were in Calgary on Tuesday, February 28 to take on the Canucks. Sam Simard opened the scoring on the powerplay less than two minutes in and Ty Daneault put the Dragons up by two to end the first period.
After a scoreless second period, the Canucks got on the scoreboard, six minutes into the third. Calgary put pressure on to get the game back within reach but Ty Whitford and Dylan Glynski both scored on empty nets to put it out of reach. The Dragons win 4-1.
On Friday, March 3, the Dragons were in Okotoks to take on the Oilers. With only a handful of points separating the two teams, these were important games. Wil Christian got the jump on the Oilers, scoring 3:21 into the game. Okotoks tied it up by the end of the first period.
In the second, Daneault scored two minutes in. Kai Matthews added another 25 seconds later. Whitford added one more to end the second 4-1 Dragons. Simard capped it off with 1:15 left in the game with an empty netter. Dragons win 5-1.
The Dragons carried the momentum home in front of 1,011 fans to finish the season on Saturday, March 5.
Matthews put the Dragons up 1-0 after one. Adam Raelser added another 16 seconds into the second. Okotoks answered back, but another Dragons goal, this time by Whitford put the Dragons up 3-1.
Coy Pighin scored his 12th of the season just 1:41 into the third period. Okotoks showed signs of life and added two goals, but Raesler scored his second of the game on an empty net to carry the Dragons to a 5-3 win.
The playoffs begin for the Dragons this Friday, March 10 and Saturday, March 11, as the Dragons host the Canmore Eagles in games one and two.