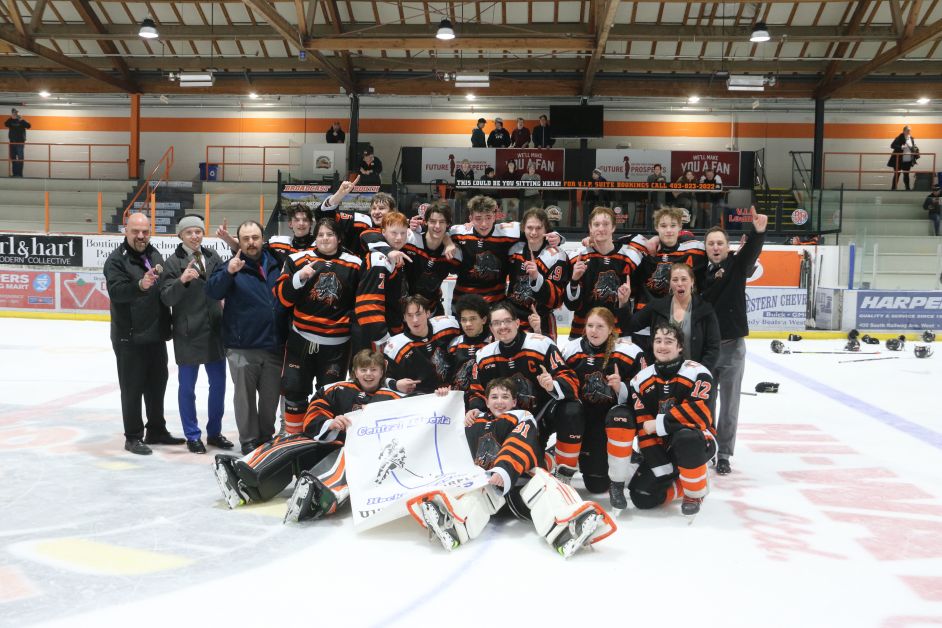 The U18 React/ DT Fire Raptors were crowned league champions on home ice Sunday, March 5, after defeating the Hanna Colts in two straight games.
It has been a whirlwind of hockey for the U18 Raptors as they topped Stettler in a three-game series and went on to play the Colts for the banner.
Game one was on Saturday, March 4 in Hanna. The classic rivalry of Drumheller and Hanna was a highlight of the season, and for the Raptors, in the regular season, were not able to get that elusive win, going 0-3-1. On Saturday, however, Terry Martin, Kerric Chambers and Kegan Regis all found the net in the 3-2 win in game one.
This gave the Raptors a chance to win in two games on home ice. The score wasn't indicative of the battle on the ice, as the Raptors went on to a 5-1 win.
The rivalry was not lost on coach Stephen Fournier.
"I grew up in this town and had that rivalry my whole life. I tried to instill this in these kids," said Fournier. "We hadn't beaten them all year and we took them in two games, finally."
As the results of the game became a forgone conclusion, some tempers flared on the ice. Drumheller however held on.
"We skated them into the ground, we used our legs, we used everything we taught them, and they played a full 60-minute game for both games," said Fournier.
"We got in on the dump and chase. They (Hanna) had a short bench as it was, so we skated on them and played an aggressive game on them. We let them take the penalties.
For the series, the Raptors only allowed three goals.
"Our goalie stood on their head for a whole 120 minutes, even in the Stettler series they both came out to play, it was phenomenal to watch."
The victory was especially sweet for seven players on the team who are in their third year.
"We hope to have 7 or 8 guys coming up from the Bantams, and we'll just build on from there," said coach Fournier.
With a banner under their belt, the Raptors still have the opportunity to compete at provincials.
"There's still work to do," said Fournier.