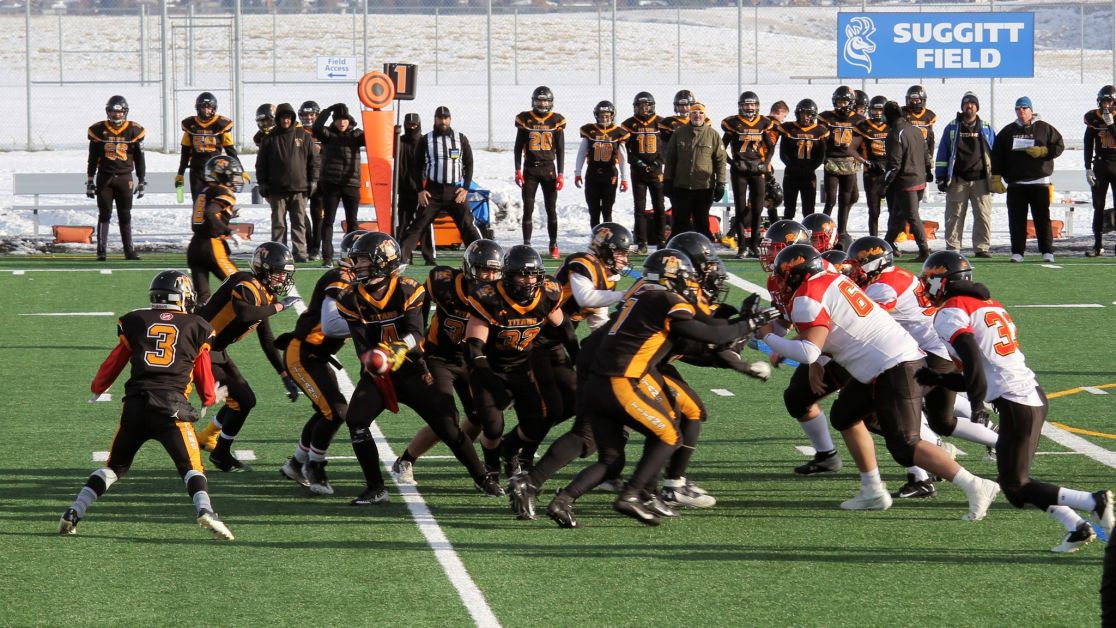 The Titans are the Tier IV South Champions, and are on their way to the Alberta Bowl.
The Titans have been having a stellar season, and it came to a head on Saturday in Lethbridge as they took on the Taber Rebels for the South Championship.
Knowing they would be up against a strong offensive team, the Titans settled in to a defensive battle behind leaders Hayden Jones and Teigan Sattler. The Titans showed intensity holding the Rebels to just 7 points, and capturing the 26-7 win.
Coach Ken Fournier said the Titans' preparation paid off.
"We had an idea what our game plan was, and we executed it early in the game, and that's what got us ahead," said Fournier.
The Titans had a couple of injuries and an ejection however, which could have changed the tide.
"We had to overcome those, and the guys held on, the defence played strong. We had a lot of good plays all over the place. It was a good team win," said Fournier.
The Team was bolstered by a strong turnout of Drumheller fans who trekked to Lethbridge to take in the final.
He notes they are not sure if the injured players will be ready for this week.
"For our guys who had never been there before, it was a big step for them to take. They did it with a strong performance on both sides of the ball, and they were forced to overcome some adversity," said Fournier. "Taber had some moments in that game, they were really rallying to come back."
With the win, the Titans are set to play the St. Paul Lions in the championship. St. Paul topped the perennially strong Ardrossan Bison 30-9.
The Titans have a good idea of what St.Paul is capable of.
"We actually played St.Paul in Week 2 this year. We won 24-13. We shook hands at the end, and the coaches said, 'I hope to see you in the finals," said Fournier. "There is a reason they are in the final. They beat some good teams to get here, and they are on a roll. They do a lot of different things well and have some big bodies that can move the ball on the ground, and they can move the ball in the air."
"It's going to be a good game. They are pretty strong on defence too, So I don't think it will turn out to be a barn burner by any stretch, but you never know."
The Alberta Bowl Tier IV Championship is on Friday, November 25 at 4 p.m. at Shouldice Park in Calgary.