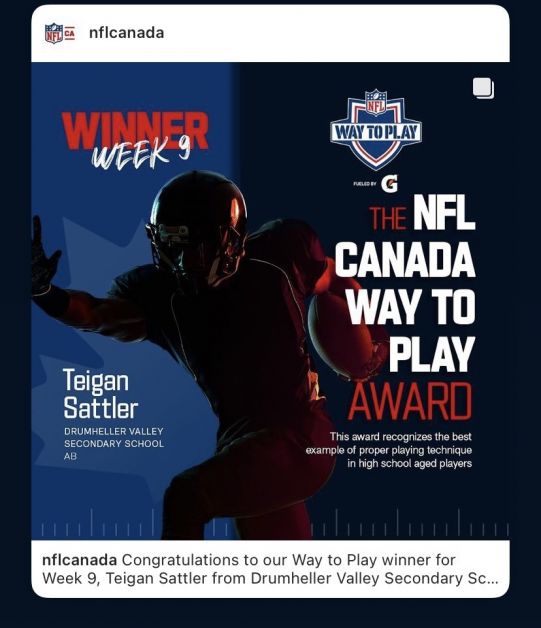 Drumheller Titan Teigan Sattler has one more accolade as he furthers his football career.
The Mail has brought readers Sattler's story as he progresses toward his dream of playing football. The Grade 12 Titan has signed with the University of Alberta Golden Bears, and has now been featured on TSN as the winner of the NFL Canada Way to Play Award.
The video features Sattler playing in the October 29 game versus the Canmore Wolverines. The video shows Sattler blitzing the quarterback, stripping the ball for a fumble. He then recovers the ball and runs it 35 yards for the touchdown.
For being selected for Week 9 of the NFL Canada Way to Play Award, the Titans will receive a $3,000 grant from Football Canada.
This is just one more honour for the young football player. Earlier this year, he was selected to the Alberta U18 team. In May, he was ranked as one of Canada's Top 70 prospects and invited to the Canadafootballchat.com's Prospect Game. There he was coached by CFL all-star and three-time Grey Cup champion Davis Sanchez. He also showcased his skills on a national stage. Teigan was ranked as the top cornerback in Alberta and fifth nationally out of the prospects Class of 2023.