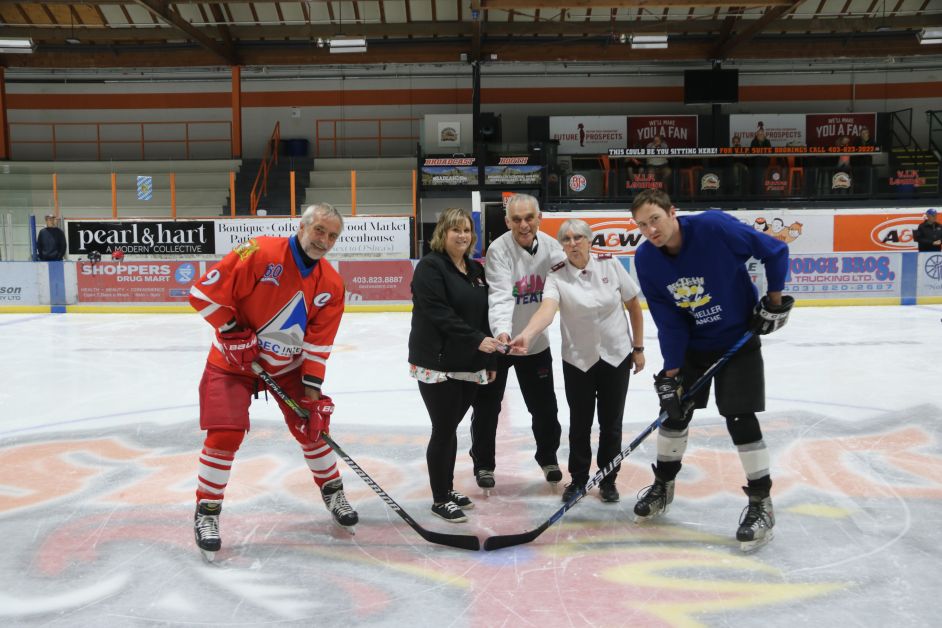 There was some great hockey action at the Drumheller Memorial Arena last Tuesday, September 6, as the Drumheller Avalanche Senior team was embroiled in an international hockey match.
The Chiemgau Oldies were in Drumheller for a one-night appearance. This is an oldtimer team from Inzell, Germany. The team has been playing for over 34 years together, and it is not uncommon for them to participate in international play. In fact, the team is familiar with Drumheller, and at one time faced off against the Drumheller Fire Department.
Rudi Kreiner is a member of the Oldies. "2006 was the last time our team was here. We did a tour then from Calgary to Vancouver, but Drumheller is famous, so they came," said Kreiner. "We tried to do this trip last year, but COVID screwed it all up. So when we restarted it in January to try for this year, a bunch of guys jumped ship, so we had to get a few extra guys. We have two from Berlin who we have met at tournaments and two guys from Saltzberg. and a guy from Nuernberg."
Kreiner grew up in Canada but went to Germany to play as a young man, and has been there since.
The Chiemgau Oldies has been around since 1988 and have done many Canadian tours, including through Ontario. On this trek, they started in Calgary and toured through Southern Alberta and the Crowsnest Pass. They eventually made it to Golden B.C., where they played their first game of the tour. In fact, the team from Golden has travelled to Europe twice to play.
From there, they went to Jasper and played in Hinton and then Whitecourt. The last three nights, they were in Edmonton to play the Vintage Club.
While in Drumheller, they headed to the Royal Tyrrell Museum and also on a canoeing trip. In total, they played 6 games in 14 days and wound up their trip in the valley.
On Tuesday night they played the Avalanche in the Fall Classic Benefit Game and offered free admission and a silver collection for the Drumheller Salvation Army Foodbank. In all, they collected $570.
Kriener said international play among senior teams is very popular. The Inzell Oldies often hosts clubs from all over the world, and travel companies even arrange such excursions.
Josef Binder is the Captain of the team and said the reason they wanted to play here was, "For the German hockey players it is a dream to play hockey in the motherland of hockey."
As far as the score goes, the Oldies won 6-3, but the experience for the players was more valuable than winning.