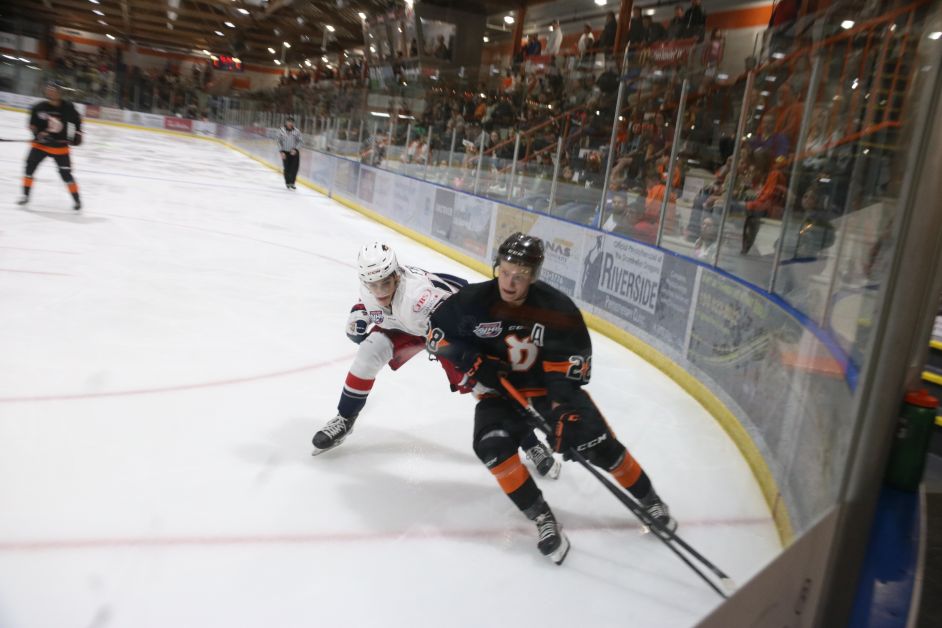 The AJHL regular season began this week, and the Dragons faced some tough competition right out of the gate, ending the weekend with one of three points.
After playing .500 hockey during the exhibition season, on Friday night, September 16, they faced off against the Canmore Eagles on the road.
The Dragons outshot the Eagles 12-9 in the first period, and four minutes in Ty Daneault put the Dragons up 1-0.
In the second, Canmore rattled off three goals, starting at 7:17, and finishing at 7:59. Jacob Goudreau scored his first goal in the regular season as a Dragon with six minutes left. The Dragons trailed 3-2 after two.
Canmore made it 4-2 less than a minute into the third period, but goals from Daneault and Vann Yuhas tied it up, forcing overtime. It couldn't be decided in the extra period forcing a shootout, and Canmore took the win.
On Saturday, September 17, the Dragons hosted their home opener in front of 1,215 fans at the Drumheller Memorial Arena, as they took on the Brooks Bandits. Fans were treated to end-to-end hockey for two periods as the teams battled to a 0-0 tie.
In the third period, the Bandits opened the scoring at the 6:36 mark and made three more, including an empty netter, to take a 4-0 win.
The Dragons have a busy week ahead. They play the Camrose Kodiaks on Tuesday, September 20, results not available at press time, and then on Friday, September 23, host the Calgary Canucks. On Saturday, they are on the road to play the Okotoks Oilers.