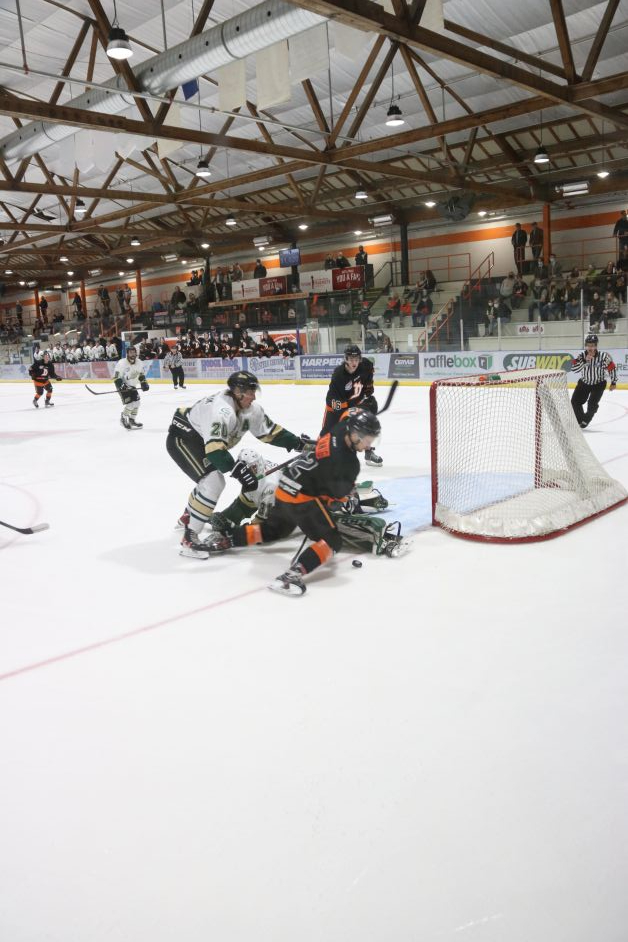 The Drumheller Dragons picked up two of a possible six points last week as they faced the Canucks and then a home and away series with the Oilers.
On Wednesday, October 6, the Dragons were in Calgary to take on the Canucks. Calgary scored first, but the Dragons followed it up quickly with goals from Vann Yuhas, Sam Lozinski, and Myles Hilman. The Canucks scored with less than two minutes left in the first to bring the score to 3-2.
Lozinski scored his second of the game three quarters through the second period on the powerplay. Just eight minutes into the third period, Carter Belitski scored on the powerplay, as the Dragons cruised to a 5-2 win. They outshot the Canucks 45-28.
On Friday, October 8, the Dragons were at home to host the Okotoks Oilers. Despite outshooting the Oilers 28-20, the Dragons could not find the net. The Oilers scored two unassisted goals; one in the first period and one in the second period to go on to a 2-0 win.
On Saturday, October 9, the Dragons headed to Okotoks to complete the series with the Oilers. Scoring continued to elude the squad as the Oilers added one in the first period, and two in the third period for a 3-0 won.
This tough week dropped the Dragons to fourth place in the AJHL Viterra South Division with a 5-3-1 record. This Wednesday, October 13, the Dragons are in Olds to take on the Grizzlys, and on Friday, October 15, are back in Okotoks to play the Oilers. They are on home ice Saturday, October 16, the Dragons host the Canmore Eagles.
The Dragons have a special surprise for Hockey fans. On Monday, October 18, the Dragons will be facing off against Hockey Canada's National Women's team in preparation for the 2022 Winter Olympic Games in Beijing China. Game time is 7:15 p.m.