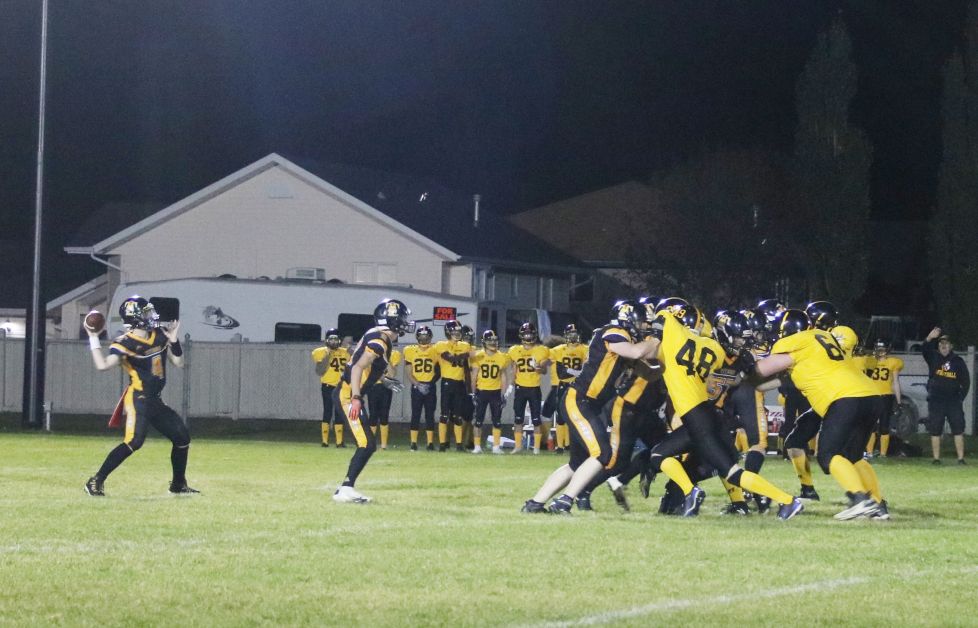 The Drumheller Senior Titans keep battling their way through league play and dominated the Olds Spartans under Friday night lights.
The Titans hosted Olds on Friday night, October 1 and walked off the victor 48-6, in their first match-up.
"We have been able to see all the teams in the league and so far we have a good match up with Strathmore next week," said Coach Ken Fournier.
Coach Corey Myles said the team's defence kept them in the game, holding the Spartans to just six points.
"The defence has been awesome all along, bailing us out of games, but they were exceptional today, giving us the ball back every time we needed it," said Fournier.
On offence, the team showed versatility.
"On offence, we were able to put 48 points on the board, and we put a lot in the air instead of going to our double-wing as we often do," said Myles.
Coach Fournier said the game allowed the coaching staff to shuffle in players to get valuable in-game experience.
Fournier said receivers Austin Parliament and Nick Zuccatto were standouts, and quarterback Luke Myles had a good game. On defense, Hunter Dayton shined.
The Titans are beyond the midday point in league play and are facing Strathmore this coming weekend.
"We continue to go game by game, but of course, our eyes are on the playoffs and making it to the provincials." said Myles.