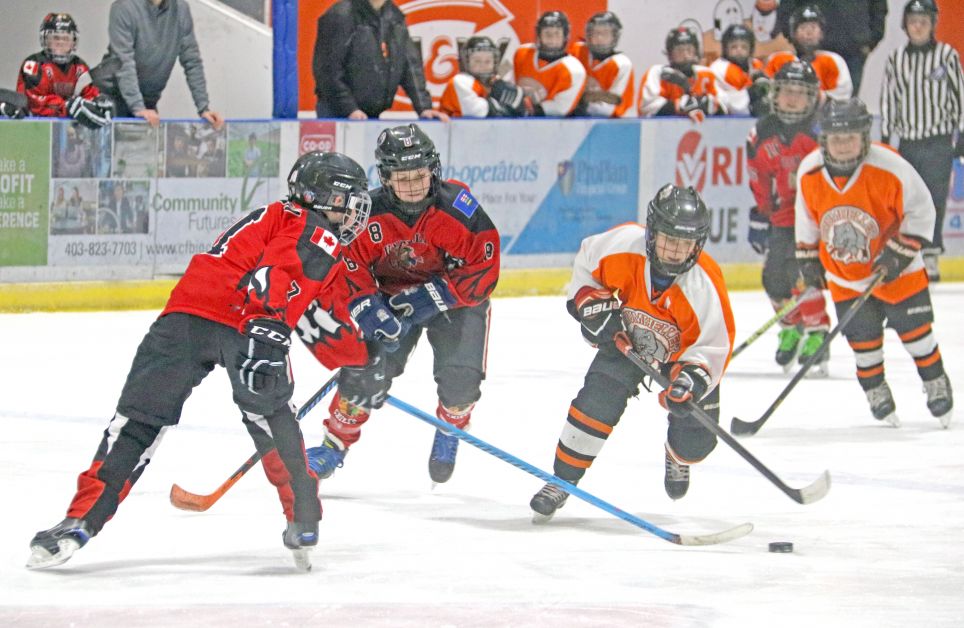 Minor Hockey season is underway and the novice players are expanding their skills on full ice and half ice.
Hockey Canada has begun to implement new rules for novice hockey. They have mandated that novice players will begin playing on a half ice rink. This allows players to get more touches and improve their skills. They have allowed a transition year for the change and in Drumheller, that means some novice players are working out on full ice, while other are scrimmaging on half ice.
Drumheller Minor Hockey president Lyle Caweizel says the novice hockey ranks are strong with three teams; two are playing on full ice and one is playing on half ice.
"We did consultations with the parents and the second year novices that began playing on full ice still would rather keep playing on full ice. So our full ice teams are primarily second-year players and the half ice guys are primarily first-year players," said Caweizel.
He says next year they will make the complete transition to half ice at the novice level.
"That will be the same across the board. Everybody will be playing half ice no matter where you are playing at," he said.
He says individual associations were able to decide on how they were to proceed this year with the changes, so it was a last minute decision. While many opted for full ice, Caweizel says there are positive aspects to the smaller game.
"I think people like it. It allows for more touches and a closer confined game. Overall they are pleased with how it is going so far," said Caweizel. "As it goes forward and becomes the norm and it is accepted that this is how it is done, hopefully, we'll see the results."