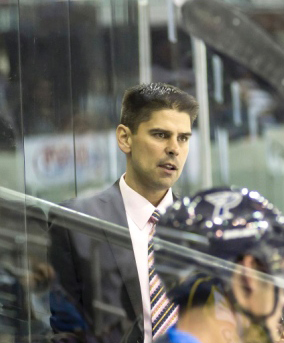 The countdown is on for the beginning of the AJHL season and the Drumheller Dragons have been working hard to prepare.

On August 2, the Dragons released its preseason schedule. The team hits the ice versus the Whitecourt Wolverines, the
Camrose Kodiaks and the Spruce Grove Saints at a preseason tournament in Camrose from August 30 to September 1.

Their first home exhibition game is Wednesday, September 6 versus the Olds Grizzlys and then on Friday, September 8, they play the Brooks Bandits.

While the ice has just been installed for the season at the Drumheller Memorial Arena, Coach Kevin Hasselberg has been busy working with the staff and roster.

"Number one, we want to establish a culture of excellence. The agreement between ownership, my own philosophies and the introduction of the management committee, I think there is a lot of enthusiasm, a lot of people that are willing to put in the work and a lot of support from the community," said Hasselberg.
He says it is key to create a culture and identity.

"Summarizing it quickly, is "better people make better Dragons.' I think it all starts with having good people in place. I think the previous staff has done a tremendous job of identifying good character people," said Hasselberg. "When they put that jersey on, you know when they graduate from our program, that whoever gets to wear that jersey next has to have to really step up their game and have a very positive impact on the hockey team to wear it with as much pride as the previous owner."

While there have been some arrivals and departures during the off-season, Hasselberg said a core of quality players will be back this season.

"I think everybody who has played a season for the Dragons… deserves that opportunity to be a part of this. They laid the groundwork for what we want to build moving forward, I think we really have to lean on those young men to keep establishing that culture," said Hasselberg.

While he was not with the Dragons last season, he was impressed with how they finished the season despite the turmoil.

"I watched the team in the playoff last year, there isn't a player on that ice coming back to this team this season that didn't play with a lot of heart, determination, and they were very passionate about how they performed and I think it said a lot about those young men," said Hasselberg. "We are going to pick on character first, and evaluate skill and talent."

"Right now with a post season evaluation of a group of players, who all want to come back to a program that experienced some significant challenges over the course of the season, I think that says a lot about those kids."