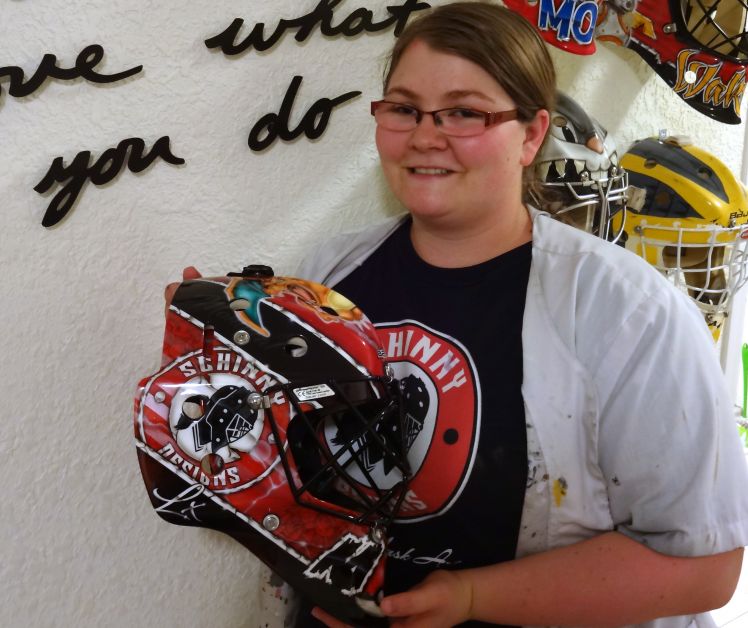 There is an old adage that says "do you what you love and you won't work a day in your life." One Drumheller woman has taken her passions and turned them into her calling.

Last time "the Mail" caught up with Morgen Schinnour, she had established Schinny Designs in Lethbridge, specializing in custom goalie masks, had designed masks for the
National Ringette team, and saw her AJHL debut as the Drumheller Dragons' Jonny Hogue donned one of her creations.

Moving forward a year and a half, she is taking more and more orders, in what has become her full-time job. This summer, in particular, has been busy.

"It kind of just happened in a frenzy in the last couple months," she said.

She just completed three masks for the University of Saskatchewan, The Lethbridge Pronghorns and the University of PEI.

"I had five university masks all in one short period," she said.

"I thought it was pretty awesome."

She also had a mask debut in the WHL for Ryan Gilchrist of the Lethbridge Hurricanes.

These are the kinds of high profile masks that will help to build her reputation as a designer and artist in a very small, but competitive market.

To make her mark means designing unique masks, but also making contacts and sometimes just good luck.

"For the Saskatchewan Huskies ones, it was word of mouth. I did two last year for the Huskies; one was a returning goalie on the men's team and the other two were for the women… the equipment manager for the women's team saw my work for the men's and said 'oh, wow, let's do this,'" she said

Others are finding her on the Internet or on social media.

She chuckles that she landed her WHL mask by doing a little "stalking."

"I messaged him (Gilchrist) on Instagram personally because I noticed his mask was blank white," she said.

She has found there is no off season in her line of work.

"This year it has been pretty steady year round. I changed the way I am doing orders, I am taking deposits and booking them in line," she said. "Last year I had a little bit stressful situation because in August I had 11, and in June and July I had a total of four. So this year in January I started booking in advance, and now I'm fully booked until November."

"I am averaging around 50-55 a year."