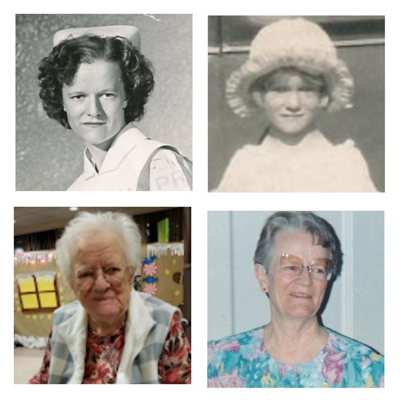 GALL
Leila (nee Carter)
July 14, 1921 - August 26, 2022
Leila was born to parents William and Edith Carter on July 14, 1921 on the Carter farm west of Delia. She went to school at Starland, Delia, Coronation and Drumheller. She worked for AGT as a telephone operator in Drumheller, Lethbridge and Calgary. She attended nursing school at the Calgary General Hospital and graduated in the class of 1951. She practiced nursing in Shelby, Montana and Hanna. As a student nurse in Calgary she would go to dances at the Alazar Temple where she met Henry Gall. They were married July 21, 1951 and moved to the Carter farm where they farmed and raised their family. The family moved to Hanna in 1964. Henry passed away in 1997. Leila moved to Clover Bar Nursing Home in Sherwood Park in 2005. She moved to Strathcona Capital Care long term care home in 2019 where she resided until her passing.
She was predeceased by her parents; husband, Henry; infant brother, Billy; step-sister, Ruth Greer (nee McColm); and step-brother, Tom McColm.
She is lovingly remembered by her daughter, Arla (companion, Dan Gartner); sons, Alvin (Shirley) Gall, Greg (Pat) Gall; and daughter, Margaret (Cameron) Sonnenberg; nine grandchildren, Joshua Schmaltz, Katherine Schmaltz, Gary Gall, Derek Gall, Anna (Steve) Ropp, John (Andrea) Gall, Pete (Mel) Gall, Beth Sonnenberg (Stephane DesJardine), Christan Sonnenberg (Sean Callahan); and 17 great-grandchildren.
Leila was a loving mother, a caring nurse, an active and successful gardener on both the farm and in Hanna. She took up the pallet and brush, lapidary jewellery, quilting, baking, sewing, knitting, fishing and was a member of the United Church, Bible Study and Royal Purple. She entered garden vegetables, baking, preserves, photography and art in the Hanna Fall Fair and was rewarded for her entries. She was in the movie "Why Shoot the Teacher". Henry and Leila travelled to various destinations including Canada east as far as Nova Scotia, west to British Columbia, most of the northern Unites States, Germany, Austria, Switzerland, Yugoslavia and Holland.
A Funeral Service was held Wednesday, August 31, 2022 in Delia, AB. Messages of condolence may be left for the family at www.myalternatives.ca.