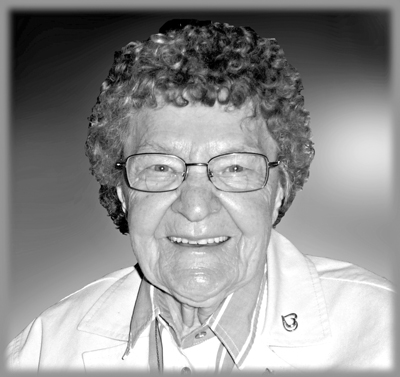 ZIMMERMAN
Katie
May 22, 1920 - April 28, 2022
The family of Katie Zimmerman sadly announces her passing at the Drumheller Hospital at the age of 101 years. Katie will be lovingly remembered by her daughter Carol (Barry) Keirle of Drumheller; her grandchildren: David (Bonnie) Keirle, Shelly (Greg) Polzin, Lisa (Trevor) Hawkins, and Michelle (Logan) Drydale; her great-grandchildren: Justin (Jennifer) Groeneveld, Tyson (Monique) Groeneveld, Michael Lowey, Kimberly Polzin, Chase (Paige) Drydale, Colten (Sarah) Drydale, and Reese Drydale; and numerous nieces, nephews, and friends. She was predeceased by her husband David Zimmerman; brothers Robert and Gordon Bender; and sisters Sarah Brown, Pearl Solberg, and Irene Deckert. Katie had a love of horses, gardening, sewing Barbie doll clothes, and making handmade quilts for her grandchildren. She enjoyed spending time with her daughter, grandchildren, and great-grandchildren. If so desired, donations in Katie's memory may be made to
Continuing Care at the Drumheller Hospital, 351 - 9 Street NW, Drumheller, AB T0J 0Y1. A Funeral Service will be held at Mountain View Funeral Home (Prairie View
Chapel, 1605 100 Street SE, Calgary) on Friday, May 6, 2022 at 2:00 p.m. with burial to follow at Mountain View
Memorial Gardens. To express condolences and share memories, please visit: www.mountainviewmemorial.ca.