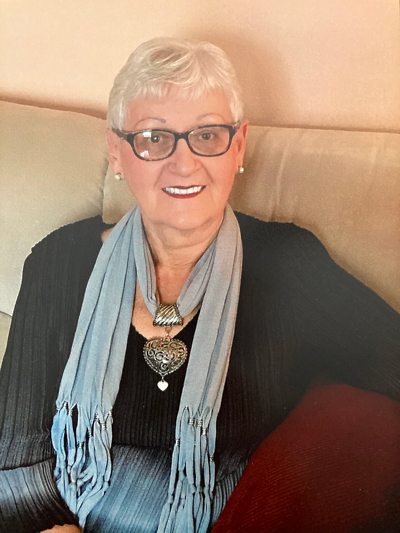 HUNTER
Dorothy Mary Jean
(Kanderka)
March 16, 1938 - April 14, 2022
It is with a profound sense of loss and deep sorrow that we share that our beloved Mother, Grandmother and GiGi has entered eternal rest on April 14, 2022 at the age of 84, in Grande Prairie, Alberta.
Mom was born March 16, 1938 to Peter and Barbara (Letasy) Kanderka. She was the oldest of three girls, sister to Margaret and Patricia. Mom worked closely alongside her father on the farm at Grainger, Alberta as a girl/teen, and enjoyed being outdoors and doing field work and work with the animals. The work was hard, but she never complained as she loved being with her dad.
Mom met our dad, her future husband, Art Hunter, at a dance when she was just 16 years old. They shared a love of dancing and after five years of Dad courting her, they married November 08, 1958. There are many pictures of them dancing at dances and at family gatherings looking so happy. They welcomed a daughter, Kelly Ann, December 28, 1959 followed by a son Gerry Arthur, November 25, 1962. The family was complete when they welcomed another daughter, Tracy Lee, born June 22, 1971.
They settled in Carbon, Alberta and Mom worked in the local bank for a time. She then spent the rest of her life perfecting the art of natural healing that she would share with anyone who needed it and although we teased her about some of her "recipes" we were all better for them.
Mom enjoyed curling and spent many fun weekends with her friends and children at various bonspiels, enjoying dressing up and even winning a few! Another lifelong passion for Mom was music. She played the accordion and the organ in her family band, and often, just for her own enjoyment at home. Her love of music has been passed down to all of her children- she taught Kelly how to play the accordion and tried to teach Tracy the organ, but singing was much more to her liking. Both Kelly and Gerry play the guitar as does her granddaughter Cassidy.
She was very proud of her Slovak roots and her family's history. So much so, that she authored three separate family history books, two for the Kanderka and Letasy families and one for the Scottish Hunter family. These books were, and are to this day, an important resource for the extended family and she continued adding to them as time marched on in terms of deaths, births and marriages. It was a labor of love for her to do this work and we are all so grateful she did.
She shared very close relationships with her cousins and sister. They were lifelong confidants and time spent with Don, Edith, George, Helen, Joe, Johnny, Josie
and Margaret was precious. She also shared a special connection with her niece Michelle. Mom worked for over twenty years at Riverside Value Drug Mart in Drumheller.
She adored her "work family", Paul, Ray and Tina were so good to both her and our dad over the years, and the people she got to see and chat with daily were a joy for her. Mom had two special lifelong friends, Lois Gorr and Grace Koustrup, who shared many wonderful memories and experiences together.
Mom was a private person and personified dignity and grace. She had an unwavering personal faith and loved her children, their spouses, grandchildren and great grandchildren immensely. Mom never missed a birthday or an anniversary. Family was everything to her. We were all able to see and spend quality time with Mom in the last four weeks of her life. Ever the crib lover, she even won the "GramSlam" Crib tournament on her last birthday party at the end of March-still playing until two days prior to her passing. These are times and memories we will all cherish.
She leaves to mourn her passing and continue celebrating her life and legacy, Kelly (Tony) Owens, Tyler (Jalisa) Owens - Reese and Logan, and Janelle Owens, Gerry (Theresa) Hunter, Layne and Scott Hunter, Tracy (Mark) Heartt, Brandon Heartt, Austin and Drayden, Tyler Heartt, Farryn, Cassidy (Corey) Butts-Kaydince,
Quinn and Koen, and Zachery Pierce, and her sisters, Margaret (Bev) George and Patricia (Jack) Stimson as well as sisters-in-law Muriel and Lorraine (Doug),
Darlene "Butch", Judy and brother-in-law Harold (Amy) along with numerous nieces, nephews, cousins and extended family members from both Canada and
Slovakia. Special mention of dear friends in the Drumheller Manor II building where she lived. She was predeceased by her husband, Art, her parents Peter and Barbara, her parents in law, John and Grace and numerous, sisters-brothers-in- law, cousins, nieces and nephews.
As per Mom's request, no formal funeral service will be held. The family will inter her with our dad at a later date. For those wishing to make a donation in her name, please consider the Hospice or Palliative Care Unit in your area.
Until our first day in Heaven, Mom, we will miss you.