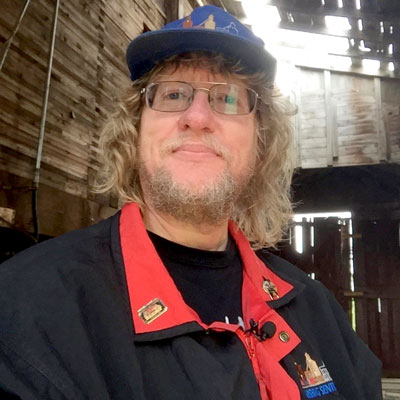 PEARSON
James (Jim) Alfred
November 23, 1961 - December 30, 2018
James (Jim) Alfred Pearson was born in Drumheller, Alberta November 23, 1961 and passed away suddenly in his home in Drumheller, December 30, 2018. Jim is survived by his loving partner, Donna Taggart (Trettin); mother, Mary Pearson; mother-in-law, Florence Taggart; sister Carmen (Darren) Davis; nephews, Rees and Mason Davis; niece, Sloane Davis; uncles Sam Waters and Jim Waters; aunts Anne Waters and Laura Waters and several cousins.
He was predeceased by his father, Roger Pearson, brother-in-law Douglas Taggart and sister-in-law Brittany Taggart. Jim graduated from Delia High School in 1979 and after a year of upgrading and working in Calgary, he enrolled and ultimately graduated in the Petroleum Technology program at SAIT with a specialisation in Geology. He worked for two different oil companies over the next few years and after finding the oil industry wasn't for him, began taking night classes at SAIT in Graphic Artistry. He was quite gifted and was eventually contracted to create specifications of arms and ammunition for an American military magazine out of New York State. Jim was a Scientific Super Nerd. From an
early age, it was obvious he was wired differently than most. He obsessed over everything related to science and science fiction, comic books, cartoons, the band KISS, Star Trek and of course, grain elevators. He was a unique individual and his personality would fill any room. He had many friends across the continent that shared his passions. Many of Jim's accomplishments came as a result of his graphic artist talents combined with his love of science fiction and history. He helped design a replica of the starship Enterprise that sits in Vulcan and once our iconic grain elevators began disappearing from the horizon, became an advocate for keeping that part of our prairie history alive. He created the company Vanishing Sentinels, and the term 'Vatorologist' to describe his role in preserving our farming and prairie history. Using his photography and writing skills, he wrote four books detailing the existence and location of all known elevators in Western Canada. Maps, calendars, and card stock model replicates of grain elevators also became part of his portfolio. He was asked to present his knowledge at conventions, in classrooms and different functions across the country and could also be found at different markets and trade shows selling his wares and answering questions. Family was extremely important to Jim and he rarely missed a family event. More than anything, he adored his nephews and niece and enjoyed spending time with them. They loved watching movies, discussing books/comic books and playing video games with him as they grew up. They were his official 'Cookie Testers' and he truly made amazing cookies! He was incredibly proud of their accomplishments as adults and made efforts to make sure they knew it. In 2014, after being friends for several years, Donna Taggart became central to his life and was a grounding, supportive force that he treasured and loved with all his heart. In 2012, Jim was diagnosed with leukemia and for the past six years courageously battled the disease. Recently, he was also diagnosed with heart disease which was what ultimately ended his life. A special thank you to the Drumheller Emergency Response teams (paramedic, fire and RCMP) who responded to the emergency call to Jim and Donna's residence and for the herculean effort you made to save his life. A celebration of Jim's life will take place Friday, January 11th, 2019 at 1:00 p.m. in the Cretaceous Conference Centre (Jurassic Inn) in Drumheller 1103 Highway 9, South. In lieu of flowers, donations may be made in his memory to the Leukemia & Lymphoma Society of Canada or the Heart and Stroke Foundation of Canada. Courtney-Winters Funeral Home entrusted with arrangements.