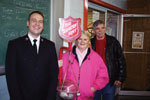 The Salvation Army Food Drive will be out in full force tonight to bring much needed food to families in need this holiday season.
This year, the food bank needs help more than ever says Heather Colberg, the food drive co-ordinator.
"Maybe it's the economic climate right now, but the food bank really needs help to get a good chunk of their supplies," Heather said.