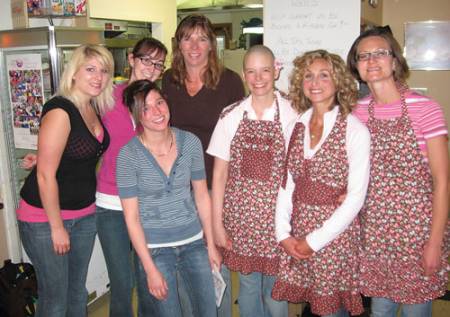 It wasn't your typical morning at WHIFS last Saturday for those who came for breakfast. It was instead a bit of a celebration of friends coming together to support each other, and along the way they raised $1,600 for women's cancers.
    The Drumheller restaurant played host to a fundraiser to support Carrie Sine's (nee Shymanski) trek in the Weekend to End Women's Cancers coming up on July 24-25 in Calgary.
    The Weekend to End women's Cancers is a 60-kilometre journey over two days. This is the sixth walk held in Calgary, and since its inception has raised more than $21 million for breast cancer research and programming.
    Carrie is on the "We'd go Through Hell with Mel" team, and is walking in dedication of her good friend Melanie Porter, a cancer survivor.
    The two grew up together in the valley, and have remained close.  Last year Melanie was expecting her second child when she was diagnosed with breast cancer. She was at 34 weeks.
    Because the cancer was aggressive, her labour was induced on December 7 she gave birth to her daughter Megan Hope. On December 17, she began chemotherapy treatment. She underwent a double mastectomy earlier this month.
    The two friends were joined by a number of friends and supporters last Saturday, May 28, for the fundraiser. Melanie was there, joined by Sine and Lisa Grande-Gruner pouring coffee, and the serving staff at the restaurant donated their tips to Carrie's walk.
    Along the way, they raised more than twice their goal.
    "It really was shocking when we started counting the money.  I was hoping to get between $500-700, so this helps out a lot," said Sine.  "Throughout the day we heard many stories of friends with breast cancer and saw some ribbons dedicated to loved ones.  Hopefully future generations don't have to deal with any type of cancer."
    Sine is grateful for all the support from the staff at the restaurant as well as Lynne Hatt for allowing them to use the restaurant for the fundraiser.
    "Thanks to everyone who came to WHIFS that day and opened their wallets for a great cause," said Sine.
    Those who are not able to come out for breakfast this Saturday, and still want to contribute to Carrie's walk, can go to www.endcancer.ca, select the Calgary event, click "donate," and search Carrie's name to make a donation.