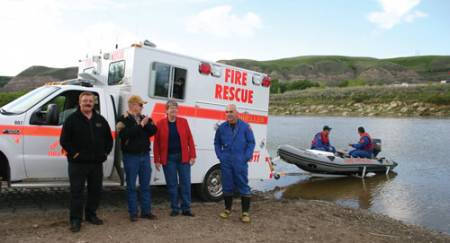 Boating enthusiasts will rejoice to hear Drumheller now has a boat launch at the Newcastle Beach area.
    During the opening ceremony, which took place on Tuesday, June 1, Cindy Clark, Drumheller and District Chamber of Commerce president, explained the need for a boat launch was brought to the Chamber's attention last year by Councillor Terry Yemen. 
    The Chamber felt it was necessary for the town, not only for the Fire Department to enable them to quickly deploy their rescue boat, but also for residents and visitors to fully enjoy one of Drumheller's top assets, the Red Deer River.    
    They partnered with the Town of Drumheller, Encana and the Fire Department to complete the project and the boat launch is now open for public use.
    Terry Yemen, a boating enthusiast himself, told inSide Drumheller he was aware there was a long standing issue for the Fire Department to have a point for rapid deployment of the first responders and that some boaters pass by the town of Drumheller due to the lack of a boat launch facility.
    "So I thought from a recreational and commercial tourism point of view, it would be an asset, too, to have a boat launch," said Yemen, adding the river was very underutilized, although it was a top tourist attraction and needed promotion to be used to its full potential.
    The boat launch is located west of Newcastle Beach, close to recreational parking. Yemen explained this section of the river is an area where there is constantly three feet of water, making it a good place for boat deployment and it is town land so there won't be any access issues. It is also far west of the beach so as not to interfere with beach users.
    First to use the new boat launch was the Fire Department who deployed their search and rescue Zodiak during the opening ceremony.