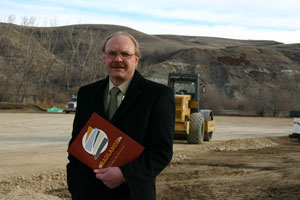 The Fundraising Committee for the Badlands Community Facility has surpassed the $1,000,000 mark in commitments to the fundraising effort.
Jeff Hall, chair of the Badlands Community Facility Fundraising Committee says they have the commitment of $1,040,000 to the facility, and the fundraising efforts are just in their infancy.
The funds have come through a number of routes including the highly successful Calgary Flames Alumni games, and the introduction of the Founders Club.
The Founders Club is designed for individuals willing to take a leadership role and make a sizable commitment to the facility, and in turn are to be listed as Founders. Community minded individuals including Elson and Pat McDougald, Jay and Connie O' Dwyer and Dan and Muriel McDermid all made a pledge as founders of $50,000 or more over five years.
Hall says they will be wrapping up the Founders Club campaign at the end of January, and if anyone is interested in being named a Founder by making a donation, they can contact Hall at 403-823-7800.
"We are grateful for those who have stepped to the plate, and this is one last opportunity for those we might not have contacted, to get in touch with us if they want to participate," said Hall.
He says the committee is launching into its next fundraising phase and focusing on corporate donations for the construction of Badlands Community Facility. The Mail reported in its January 20 edition that Freson IGA has committed $100,000 over five years to the project. This follows the generous donation of $500,000 committed by EnCana early on in the project. The committee is hoping other businesses in Drumheller, or that operate in Drumheller will also step forward to support the project.
For more information on the Badlands Community Facility Project, and how to donate to the project, contact Jeff Hall at 403-823-7800.