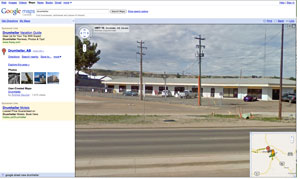 Google has recently added Drumheller to Street View in Google Maps, so you can now navigate through the town virtually, from anywhere in the world.
To check this out, go to Google Maps, enter Drumheller and zoom in on an area. By dragging and dropping the orange man, found on the left hand side above the zooming bar, on to the area, images will appear and you can then navigate through the streets as if you were driving or walking.
To protect privacy, Google has blurred people's faces and license plates, you can also request removal of an image. See inSide Drumheller on Friday for more information about the possibilities this brings to Drumheller.