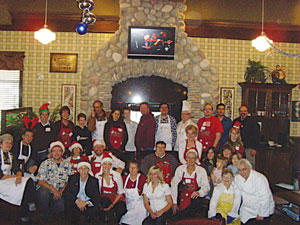 A Drumheller tradition continues this Christmas day at O'Shea's Restaurant with the annual Santa's Christmas Dinner.
    The original event was started by three local families in 1983, simply because there were no restaurants open on Christmas Day. It has now become a place to enjoy Christmas dinner in the company of others.
    "The event has been running 27 years. I've been involved for 15 years. I remember being a young teenager singing a special version of Jingle Bells with Billie and Brock Wood, Sandy McDonald, my grandfather, Bev Cole with Delmar Adie playing the keyboard. Our goal now is to carry on the great tradition that they started," said Bob Sheddy, one of the volunteers helping out with this year's event.
    Local patrons grace the event for a number of reasons. Some may decide not to cook they are not expecting guests, or maybe are too busy to cook a formal dinner. For others it may be impossible to be with family this season because many live out of town, and are not able to travel. For still others it has become a social event where friends celebrate the season.
    "Everyone is welcome at the annual Santa's Christmas Dinner, and the only prerequisite is having the Christmas Spirit," said Sheddy. " In fact, some have made it a tradition to bring their family to the dinner year after year."
    "Our staff at Century 21 work hard each December planning, organizing and helping the event come together. We all feel very fortunate to be able to give back to the community with events like this," says Gary Chambers of Century 21 PowerRealty.ca.    
    The event has previously been held at the Elks Club, Drumheller Inn, Stavros and Boston Pizza. Most recently, O'Shea's is the venue. Chris and Heather Jones, (who operate both Boston Pizza and O'Shea's), have acted in a generous manner allowing their restaurants to be the site of the event for the last few years.
    "We're honoured to have the dinner at O'Shea's this year," commented Cam Christianson, of Canalta. "It's a great group of people to spend Christmas with."
    The meal includes a homemade turkey dinner with all the fixings, coffee, pie, dessert, chocolates and great company. Rick Dipietro from Canadian Linen is supplying the white linen tablecloths and festive red napkins, a detail that has remained from the beginning.
    The organizers will also have a shuttle running for those who need a ride to the event. They will also  be happy to deliver care packages for those who can't make it out.
    The organizers are still looking for entertainment for this year. For more information on this event, contact Bob Sheddy at 403-324-2222. On the day of the event, for pickup or delivery, you can call 403-823-2222 or O'Shea's at 403-823-2460.