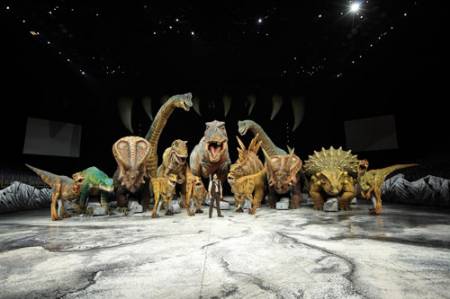 The dinosaur fossils filling the Royal Tyrrell Museum are pretty cool and all, but have you ever wondered what it feels like to have a 23 foot tall T-rex breathing down your neck?
    Over 17 dinosaurs come alive in the arena spectacle Walking with Dinosaurs which starts its 8 show stint at the Saddledome on August 11.
    "It is a look at both the earth's and dinosaur's history... using amazing life-sized puppets," says Nellie Beavers, the Assistant Tour Manager with the BBC associated show.
    "It's the closest thing you're going to get to seeing a live dinosaur."
    An internationally renowned crew of 75, including some working with the Muppets, have worked with scientists to create 17 life-size dinosaurs, including the terror of the ancient terrain, Tyrannosaurus-rex.
    A team of three people remotely control each dinosaur, the large ones weighing as much as a car, as they tell a personal and historical story about the giant creatures Drumheller knows all too well.
    Huxley takes the audience on a journey all the way back to the Triassic period, bringing it through all three periods of the dinosaurs.
    "We start with the tiniest hatchling dinosaurs and let them grow into the tall Brachiosaurus."
    "We see them fight for food, protect their young," says Beavers. "This isn't Barney, its a theatrical presentation backed by the BBC so we pride in having accurate dinosaurs."
    "We've had lots of palaeontologist come see our show over the years, and I think what the most exciting thing for us is they think it is very accurate."   
    The $20 million production is now in its fourth calendar year, and this will be the second time it's been in Calgary.
    More than 3.1 million people have taken in the show in North America.
    Walking with Dinosaurs was inspired back in the late 90's by Jurassic Park, and has since grown into a world-renowned travelling production.
    Three people are required to move each dinosaur which ways up to 1.6 tonnes.
    Controlled by remote, one operates the chassis movement at the base of each beast,  while one operates head and tall motion and another controls detailed movements such as breathing, blinking, and mouth movement.